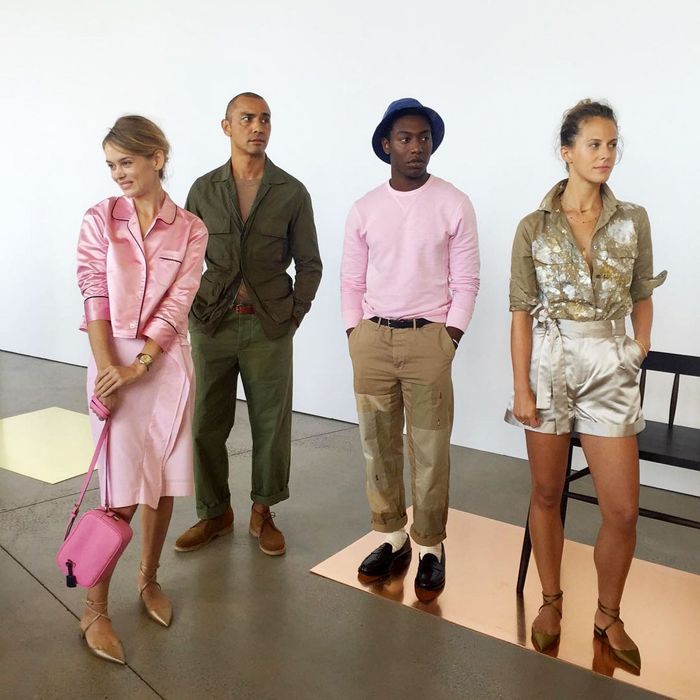 Pink, khaki, and some great model casting at J.Crew.
Photo: Courtesy of Instagram/lrpeoples
The Cut's editors cover Fashion Week in real time across multiple channels — not just this website, but on Instagram and Snapchat, too. Follow our accounts to get the inside view on everything that's going on, and check this daily compendium for highlights. Editorial director Stella Bugbee, style director Rebecca Ramsey, senior market editor Diana Tsui, senior beauty editor Kathleen Hou, senior fashion news editor Véronique Hyland, and more of the Cut's team will all be contributing to coverage.
DAY FOUR
What a day! Sunday's shows were exactly how Fashion Week should look in 2016. Hood by Air collaborated with PornHub on some outrageously messy makeup looks (we'll let you interpret the meaning). J.Crew's casting consisted of friends of the brand instead of models, including a glowing pregnant model. And Opening Ceremony's mock pageant managed to tackle themes like immigration, economic inequality, and gender discrimination in a funny, stylish, super-likable way.
Snapchat Highlights:
Our correspondent Shiona went to, roughly, everything. Meanwhile on Instagram Stories, the rest of the staff captured moments like Ali Wong's bit at Opening Ceremony.