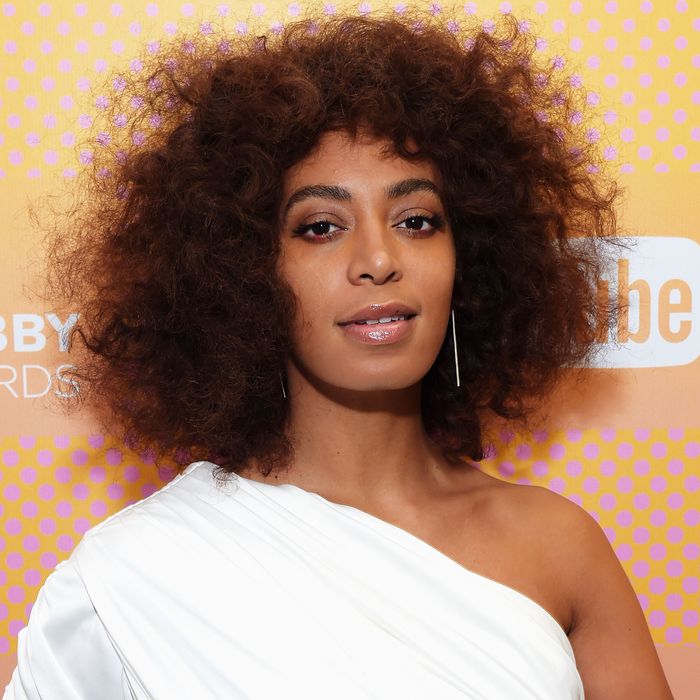 Solange is president of the Fiona Apple Fanclub.
Photo: 2017 Getty Images
In the new issue of Teen Vogue, Very Cool Adult Solange Knowles wrote a moving letter to Teenage Solange Knowles. Unlike the letters you might want to write to your teenage self, Solange's letter was a poetic, inspiring rumination on first loves and trust and self-acceptance and gratitude and pain and growth and did not contain a single reference to how decades later Caroline would still be boyfriend-stealing life-ruiner.
Before you think Solange transcends any sort of normal teen experience, however, please note that she too had a deep, emotional attachment to Fiona Apple and a mysterious sexual attraction to the dirty hot Incubus lead singer, Brandon Boyd. She writes:
you will dive head first without looking into phases that you are certain of who you are. some of these stages include:
the dance-is-life (aka "this leotard is my second skin") phase.
the Bible-thumping-church-camp phase
(which coincided and contradicted with the Fiona-Apple-fan-club-president phase).
the Nas-aficionado-brown-lip-liner-and-Vaseline phase.
the Rasta-vegan-thrifter-who-is-determined-to-marry-Brandon-Boyd phase.
the football-player's-girlfriend-who-wears-braided-blond-highlights-and-swears-by-capri-pants phase.

There are a few universal truths that even the coolest adults can't escape: You will embrace at least one unflattering pant trend, there is at least one journal entry that could ruin your life if ever made available to a public audience, and at one point, you very angrily sang along to "Criminal" when your mom wouldn't drive you an hour to see Incubus perform at Busch Gardens.