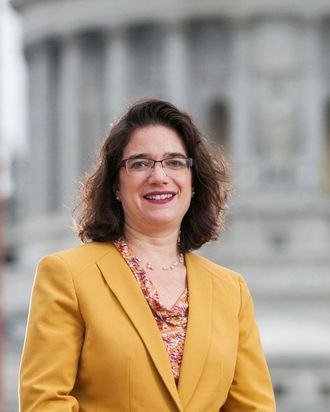 Representative Melissa Sargent.
Photo: Courtesy of Facebook/Rep. Melissa Sargent
A lawmaker in Wisconsin has proposed new legislation that would classify "stealthing" — the act in which a person removes a condom during sex, without the other person's consent — as sexual assault, NBC News reports.
Representative Melissa Sargent, a Democrat, introduced LRB-3346 earlier in the month to curb "stealthing," shortly after a report in the Columbia Journal of Gender and Law highlighted the disturbing trend of nonconsensual condom removal. The report included interviews with victims who had thought they had been protecting themselves during sex by using a condom, but had actually been exposed to STDs and unwanted pregnancies when their partner "stealthily" removed the condom during intercourse without their knowledge.
Under LRB-3346, stealthing would be considered sexual assault in Wisconsin, as its victims do not consent to unprotected sex. NBC News reports that the bill clarifies that if "an actor removes a sexually protective device such as a condom before or during sexual intercourse or other sexual contact without his or her partner's permission, there has been no valid consent to that sexual act."
Sargent said in a statement that she believes that it's time to "get serious about consent and sexual assault," and that sexual-assault laws must reflect the fact that "consent isn't carte blanche."
"Sexual predators will continue to find new, egregious ways to violate and victimize others, and it's important that as legislators we take concerted steps to be responsive as we become aware of it," Sargent said. "This behavior is predatory and disturbing, and people should know we not only find it reprehensible, but that we won't tolerate it. Ignoring it is simply not an option."