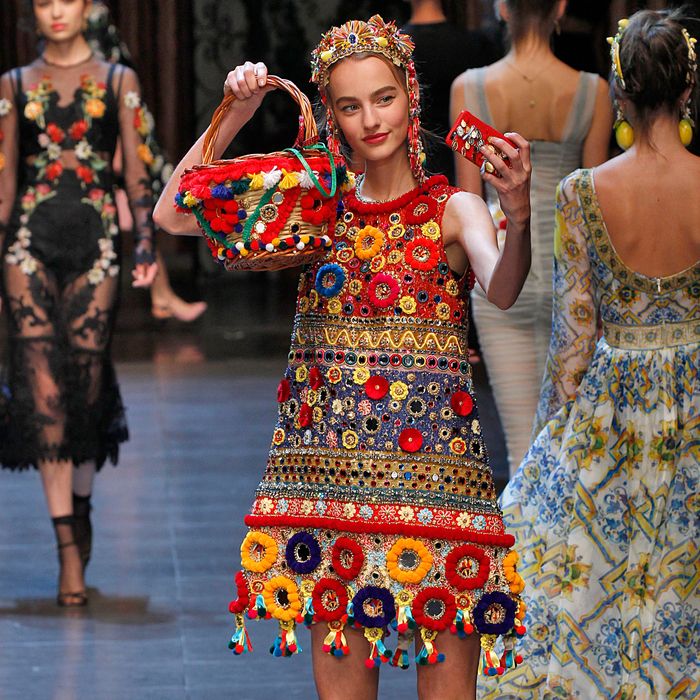 Dolce & Gabbana Spring 2016.
Like many designers, the bulk of Stefano Gabbana's Instagram is runway shots, workrooms, and celebrities wearing his wares. However, he has been on a spree of posting side-by-side images of D&G clothes and copycats. The most recent targets are Gucci's Alessandro Michele and Moschino's Jeremy Scott.
The Gabbana half of Dolce & Gabbana reposted a Magnum ice-cream ad featuring Moschino designer Jeremy Scott and model Cara Delevingne next to a Dolce & Gabbana Spring 2016 runway look. To his credit, Gabbana always thanks the Insta-sleuths who pair the outfits together.
Within the same hour, he took aim at an AC/DC look by Gucci, comparing it to a 2001 D&G shirt.
Last week, he compared shoes from the Chanel cruise show. A rep for Chanel told the Cut last week that, "This indicates that Greece nourishes and will continue to inspire artists, creative designers, writers, and philosophers throughout the world, thanks to its exceptional culture." Potato, Po-tah-to.