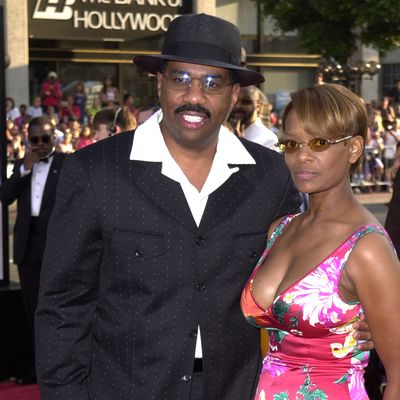 Steve Harvey and Mary Shackelford in 2001.
Photo: SGranitz /Getty Images
Mary Shackelford is suing her ex-husband, comedian and diva Steve Harvey, for $60 million, according to court documents obtained by E! News. The couple was married from 1996 until 2005, and Shackelford says she has since been suicidal and self-medicating.
Per E! News, Shackelford is suing Harvey for child endangerment, torture, conspiracy against rights, intentional infliction of emotional distress, breach of contract, and "soul murder," which is defined in the lawsuit as "a combination of torture, deprivation, and brainwashing." Last month Shackelford posted a series of Youtube videos outlining her issues with Harvey and his current wife, Marjorie.
She said in one video, "I want him charged with a constitutional rights violation, falsifying documents, perjury, contempt of court, embezzlement, extortion and collusion. For what he's done to me, I want to see Steve Harvey behind bars."
The suit was filed by Mary's "civil rights activist," according to TMZ, not an attorney.