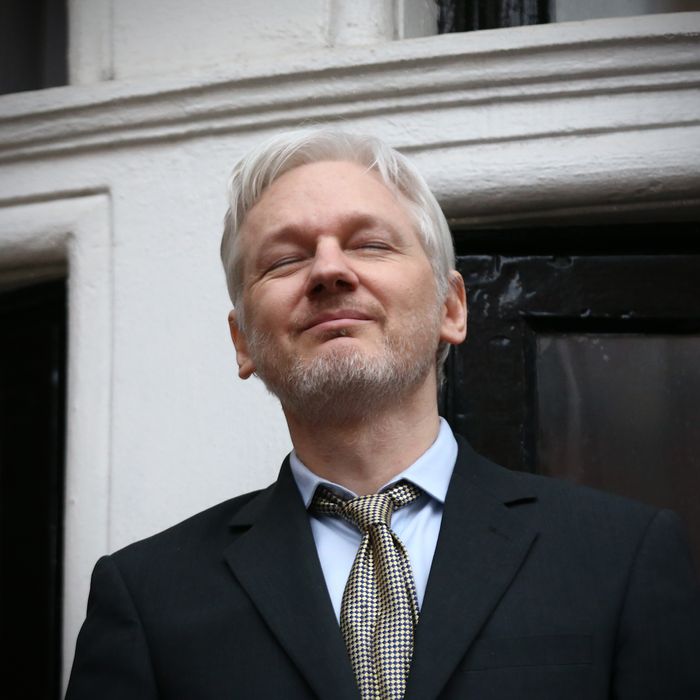 Julian Assange at the Ecuadorian embassy.
Photo: Carl Court/Getty Images
A Swedish investigation into a rape claim against WikiLeaks founder Julian Assange has been dropped, Sweden's top prosecutor announced on Friday.
The European arrest warrant was issued in 2010 after two women came forward saying they had been sexually assaulted by Assange. The prosecutor said she dropped the investigation because, per Associated Press, they could not arrest him "in the foreseeable future."
His lawyer, E. Samuelsson, called the news, "a total victory" on Swedish Radio. "He is now free to leave the embassy when he wants. We have won the Assange case. He is of course happy and relieved. He has been critical that it has lasted that long."
However, Assange is still a "wanted man" in the United Kingdom for not showing up to a court date, which the Metropolitan police noted to AP is a "much less serious offense" than sex crimes and said they "will provide a level of resourcing which is proportionate to that offense." He has been in asylum in the U.K.'s Ecuadorian embassy since 2012.
The statute of limitations for the sexual-assault claims expires in 2020 and therefore could be reopened. President Trump has said that he would like to charge Assange as well, but it's unclear whether these charges have been or will be brought against him.
The news comes one day after Chelsea Manning, a U.S. Army soldier who shared classified documents with WikiLeaks, was freed from prison. Like Manning, Assange posted a photo of himself from his personal account following the news.