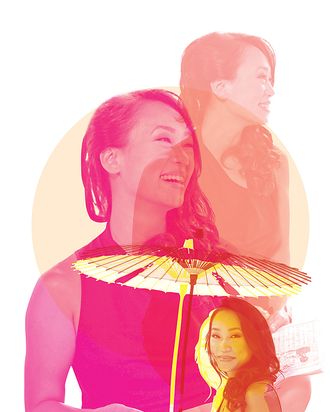 Tatcha Beauty CEO Victoria Tsai.
Photo-Illustration: Stevie Remsberg
Tatcha Beauty founder and CEO Victoria Tsai wakes up at 4:30 in the morning, travels 90 percent of her life, and receives 100 Snapchat messages and 450 emails daily. Here's how she gets it done.
On as close as it gets to "typical:"
I have two types of days. I have travel days 80 to 90 percent of the time, and then I've got San Francisco days, which are few and far between. But my "typical" days would be in San Francisco, where I live and where the company is based.
On waking up:
I wake up between 4:30 and 5 a.m. I like to do my thinking work in the morning, when my head is clearer and the world is still quiet. My husband wakes up around the same time, he works out, and I put on workout clothes, and say to myself, "I'm just going to do a few emails," then three hours pass and no workout happens.
On her breakfast of champions:
I start with either green tea — I like to make matcha ceremonial green tea, with the whisk and the bowl, it's really lovely — or hot water and lemon, which in Eastern medicine is the way to start the morning with a good kind of detox. If I've been traveling too much, I'll go straight for the coffee. But I'm trying to wean off it a little bit.
After that, my husband makes me breakfast — I'm very lucky — and then I get my daughter up around 7 a.m. She's 7. Seven to eight is our time together, where we prepare for the day, make her lunch, get her dressed. Because I travel so much, my morning and nighttime rituals with her are really important. My husband makes us usually deviled eggs, and we also recently discovered Dutch babies. So good. We now make them like every morning; and lots of fruit. We have two naughty cats that we got from the ASPCA last year. So we are also normally swatting them away, and they'll steal food throughout our breakfast. It's a bad habit.
On getting ready:
Once my daughter is ready, my husband takes her to school, and then I take a shower and get dressed and I get to work by nine. I'm a morning showerer, because I wake up with crazy hair. The shower is my thinking spot, since I do all my thinking work in the morning. My skin-care ritual is quite fast. I use our rice enzyme powder, which keeps your skin really soft. Recently, especially as we're going into the warm summer months, I use the water cream, which launched recently, then I use the SPF. I always do my makeup exactly the same, a cat-eye and a red lip from our collection. My hair is usually in a bun.
I do mono dressing for work. I read this really interesting article in the New York Times a while ago about how the brain is a muscle, like any other, and how you can get decision fatigue. It was a shockingly low number of good decisions your brain could make a day before they start getting not so good. I decided after I read that, that I can't waste three decisions in the morning on what I eat, and what I wear and how I get to work, so I just take those three out of the decision pool. I can get dressed in about 15 minutes. I have a uniform — leggings and a big comfy shirt — that I wear every day without fail. And then I have my YSL Tributes that to me are like the Birkenstocks of high heels, they're so comfortable.
On her commute:
I live about 30 minutes outside of the city, so I just let Waze tell me how to get there instead of trying to figure it out. I like to listen to podcasts on my way in, in the morning — I got into podcasts with Serial.
On her back-to-back schedule:
Because I travel so much, the in-office time tends to be quite busy. I'll usually have meetings from 9 a.m. to 6 p.m. every 30 minutes with no break. Thankfully my husband works at the company, and he makes me smoothies in the morning out of whatever berries are in season, and coconut milk, and bananas. Then he puts them into jugs for me and brings them to me throughout the day, because I normally can't stop to eat. No lunch. But I do get to float back and forth between working with really different and very cool people. Altogether, our team is about 75 people worldwide. We do all of our product development in-house, and our scientists are in Japan and San Francisco. Those are my favorite meetings. I'll start the day with our San Francisco–based scientists, and I'll usually end my day with the Japan-based scientists, because they come on at 5 p.m. our time. And then in between I'll check in with sales and finance, and our technology team, our design team. We call our customer-service team Customer Love; they report directly to me, and every single customer email and letter will come to me. One of our people will answer them, but I still feel the pulse and read and see everything that's happening every day. We have the best clients in the world, and they send love letters and gifts almost every day. When I need a little boost of energy, I'll go over to my love letter pile and read some feedback that we've gotten, and it just reminds me why we do what we do.
On her desk:
We have a one-to-one model with an amazing organization called Room to Read, which benefits girls' schools in developing countries. I keep pictures of the girls that I've met in Cambodia on my desk. And I don't get to go to my desk often, but when I do, I see their pictures and it just reminds me that my hardest day is by far their easiest day. I also have a picture of my daughter, a red lip to touch up, a mist, hand cream, blotting papers, and Japanese art books.
On her afternoons:
My team knows that if they need me to make a decision about anything, that they've got to ask me in the morning, because by the time three o'clock rolls on and I start working on 4:30, my brain is starting to go sideways. And I'm pretty strict about stopping at six when I'm in San Francisco, so that I can get home and have dinner with my daughter, do her homework with her, get her ready for bed and tuck her in.
On her evening skin care:
My nighttime ritual for skin care is pretty simple too. Oftentimes I'll take a bath at night, just because I find it very relaxing. I love it. I start with the Camellia Cleansing oil to take off the day, and then the Classic Enzyme Powder again. At night, I'll use a silk cream, because it's a little bit richer, and then the ageless enriching renewal eye cream on my eyes. I like to apply it up to my eyebrows and down to my cheekbones, and on the eyelids. Like Jackie O. glasses in terms of where the eye cream goes. And lots of lip balm, so it can act like a lip mask at night.
On her nighttime routine:
My daughter and I sing a good-night song to each other. A while ago, she wanted to sing it to the people on my Snapchat, so we started doing that and they and their kids started memorizing the song, and they sing it back to us. I try to check Snapchat messages as much as I can, I keep the in-box open, and it's kinda like our customer-service line that I manage directly myself. I see what kind of questions people have and what they're enjoying, what suggestions that they have … And then I read the New York Times for about an hour — I try to read about things that have nothing to do with beauty or business. I like the science section, especially when they talk about things like black holes. And then I pass out with my phone in my hand, usually around 9 p.m., 9:15. I'm literally like a child.
On communication:
I get about 100 inbound messages on Snapchat and maybe 450 emails to my inbox. So 550 total a day. My preferred way to communicate is in person; second to that I prefer phone call, because you get so much more texture about how people are feeling. But I do often have to depend on Snap and email, mostly because I travel so much that I'm catching up on stories at very weird hours when nobody else would want to talk to me.
On staying organized:
I love to-do lists. So I do a quadrant to-do list every day, where the different quadrants are: urgent and important, and then urgent, and then important, and then other. And I go through my email every morning top to bottom, and use that to help dictate what's in each of those boxes. And then throughout the day, I'm just trying to mark those boxes down while I do my meetings and everything else. To-do lists are amazing. Lists, boxes, yes.
On travel:
I have to fly a lot, and I actually really hate flying. So I'll normally catch up on emails on the plane. But if I'm flying internationally, oftentimes there's part of the flight where there's no internet. I have to watch videos just to get my mind off the fact that I'm flying. I binge-watch different series, and it makes time fly. I love Silicon Valley, because we live in Silicon Valley, and I find that it's so accurate. I am a very judicious packer, and I'm passionate about packing. I live out of my suitcase so much. I keep a set of things that I never unpack, like a set of makeup brushes, a set of cosmetics … I have a hard-sided suitcase that I use. I won't check anything, because things get lost so often. I have packing cubes, I have a whole methodology; I have to unpack everything a certain way, and I re-pack a certain way.
I have the same route that I do once every few months, where I spend time with geisha in Kyoto, and it's a lot like being a beauty editor. I'm like, "What's in your bag, what's in your bag?" Then I go to Tokyo, where our scientists are based, and I tell them about what I learned, and then we figure out why it works, where the source is, test the efficacy … we build every formula from scratch. We're always trying to take it to the next level. My heart is really in two places, either with my clients or with my scientists.
On precious downtime:
I have been trying to practice meditation for quite some time, working on micro-meditation now, little meditative moments, instead of carving out 30–45 minutes. That's my reality. When I'm not working, I'm really trying to spend time with my daughter. I want her to know how important she is to me, even though I work really hard.
On what she loves most about the job:
I love that we are in the business of making people feel more beautiful inside and out. And then for my team, who I love dearly, it's about making sure that they have a place where they get to do work that they feel really proud of. When people around me are happy — I'm happy.