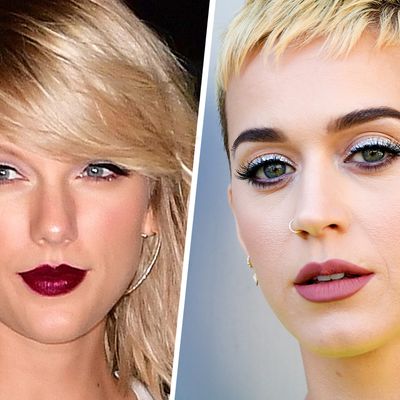 Taylor Swift and Katy Perry.
Here's your update on the most important American drama of our time: Katy Perry just released a very obvious diss track about Taylor Swift. Yes, Perry sort of promised she would not do something like this in a very confusing statement to Entertainment Weekly last week, but now the song is here, and it is called "Swish Swish." It is almost certainly a response to "Bad Blood," the mean-girl anthem Swift directed at Perry last year.
Some of the lyrics in "Swish Swish" reference Perry's previous (thinly veiled) statements about Swift:
"A tiger / Don't lose no sleep / Don't need opinions / From a shellfish or a sheep / Don't you come for me / No, not today / You're calculated / I got your number / 'Cause you're a joker / And I'm a courtside killer queen / And you will kiss the ring / You best believe."
For those who have not closely followed this years-long feud: Perry once referred to Swift as a "Regina George in sheep's clothing." In her confusing statement about Swift last week, she said, "Don't come for me. Anyone. Anyone. Anyone." And to make it absolutely clear that this song is supposed to rile Swift, Perry tapped fellow Swift enemy Nicki Minaj to rap on it.
Perry has not directly commented on the meaning of the song, and Swift has not commented on it at all. "Swish Swish" has clearly been shared in the Swift Squad group chat, though, because squad member Ruby Rose tweeted angrily about it last night.
Who will express their displeasure on social media next? Selena Gomez? Haim? Swift's official new boyfriend, the 26-year-old British actor Joe Alwyn? We are about four hours away from Chloë Grace Moretz somehow becoming involved in this.