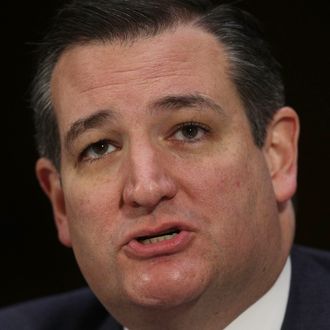 Ted Cruz.
Photo: 2017 Getty Images
There was once a time when Ted Cruz thought he could be president. It's unclear why, since the nation was not about to elect someone whose full emotional range appeared to only consist of "sad" and "deeply uncomfortable." And apparently likability among the American people isn't Cruz's only problem — he's reportedly also disliked by his Senate colleagues across both sides of the aisle.
Al Franken in particular has been having some fun mocking Cruz as of late: a full chapter of his new memoir, Al Franken, Giant of the Senate, is devoted to the subject, including the line, "I like Ted Cruz more than most of my colleagues like Ted Cruz, and I hate Ted Cruz." In a CNN interview with Anderson Cooper, the Minnesota senator explained that Cruz is "kind of a toxic guy in an office, the guy who microwaves fish." And during a Wednesday town-hall session, he dropped a particularly tragic detail involving Cruz and the Senate's Secret Santa.
"I've had people pick out Cruz's name and then drop it on the floor. I've actually had that happen," Franken claimed.
Cruz, for his part, responded to Franken's recent comments with a petty tweet reading, "Covfefe? Hard to say, but I hear Al Franken's new book is full of it ;)"
Senators — they're just like us!