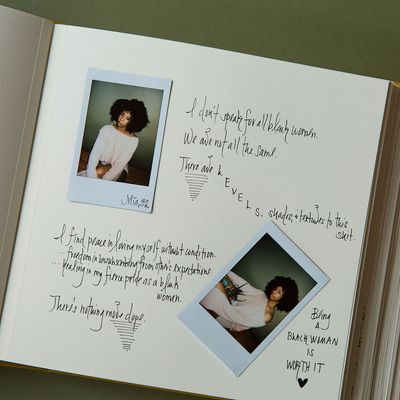 "I find peace in myself without condition, freedom in unsubscribing from others' expectations, healing in my fierce pride as a black woman." – Mia, 32.
Photo: Seher Sikandar
Ahead of Solange's performance at the Guggenheim, the Red Bull Music Academy festival commissioned photographer Seher Sikandar to create a conceptual project for a conversation between Solange and her audience. With a scrapbook of testimonies in mind, Sikandar invited 61 black women to her Brooklyn apartment for a photo shoot earlier this month. She took Polaroids of each woman, glued their portraits into the pages of a book, and asked them to write about their identities. The collection, titled Testimonies From the Table, was dedicated and gifted to Solange after her performance last week. Free digital copies of the book are now available online.
"I joke about it because it was amazing, but it was like black girl summer camp," Sikandar said of producing the shoot. She and a few friends planned the project in two months, choosing subjects by sending out an intake form on social media to reach a broad range of women with diverse backgrounds. She said they intentionally avoided seeking out high-profile women to keep the book approachable for everyone. On May 1, with essential oils diffusing throughout her apartment, Sikandar set up her bedroom as a portrait studio and her living room as the scrapbooking room. Women arrived in shifts throughout the day, donning beige tops for the shoot and sprawling out on the floor with clipboards to write.
In poems and sketches, women engage in conversations with Solange's album A Seat at the Table, opening up about the challenges of stepping out into a world that seems to work against them, but also about their determination to remain strong and feel beautiful nonetheless. Many topics are the same issues that Solange addresses in her album. "I think it's one thing that Solange got long-overdue affirmations from the industry that had been shunning her for a long time," Sikandar said about her idea for the book, "but I think it's another thing to have your work affirmed and the resonance reflected back to you from the community you're trying to reach and who your work is for."
Sikandar said she hopes Testimonies From the Table will serve its purpose of celebrating Solange (she's hoping to hear from the singer after she finishes her tour), but also acknowledge other artists like her who use their platforms for social issues. "Not that I expect any sort of specific reaction from anyone, but I would like to request that anyone who chooses to engage with the project not just read it passively or in a transient, impermanent sort of way, but really read and consider it. Consider what it means to be a black woman," she said. "For black women, my hope is that they're able to see themselves in some way, some part in the project."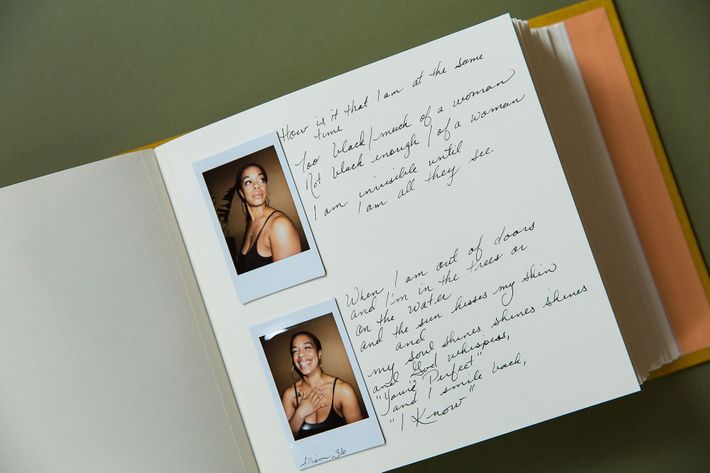 Allison, 36
"How is it that I am at the same time too black / much of a woman, not black enough / of a woman. I am invisible until I am all they see."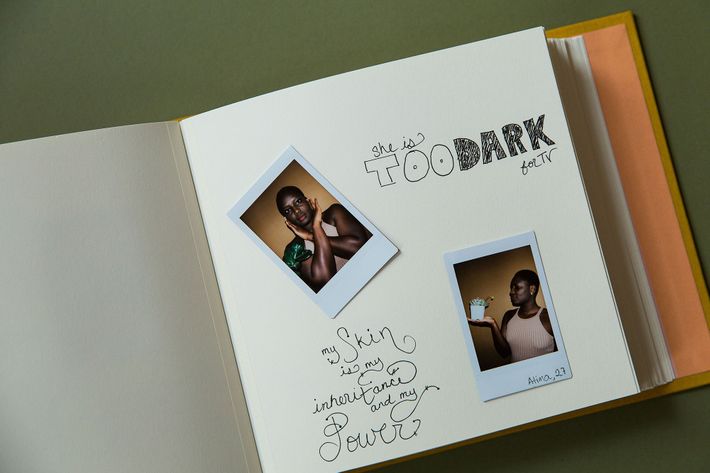 Atima, 27
"My skin is my inheritance and my power."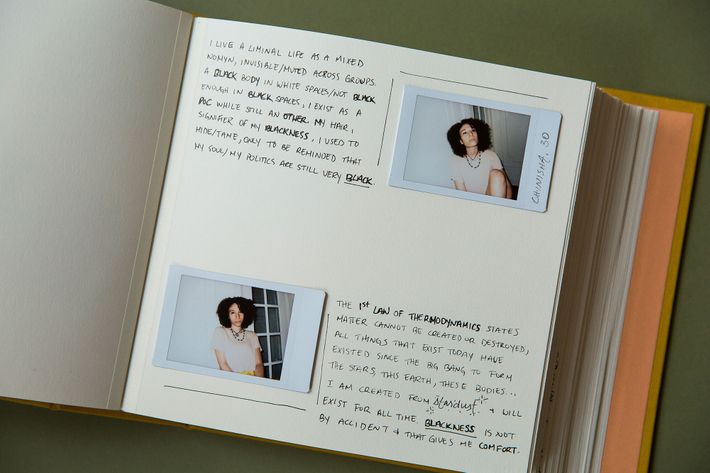 Chinisha, 30
"Blackness is not by accident and that gives me comfort."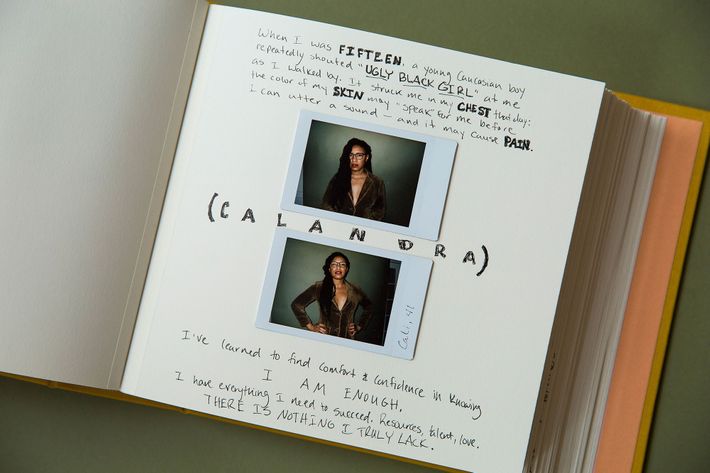 Calandra, 41
"When I was 15, a young Caucasian boy repeatedly shouted, "Ugly black girl" at me as I walked by. It struck me in my chest that day."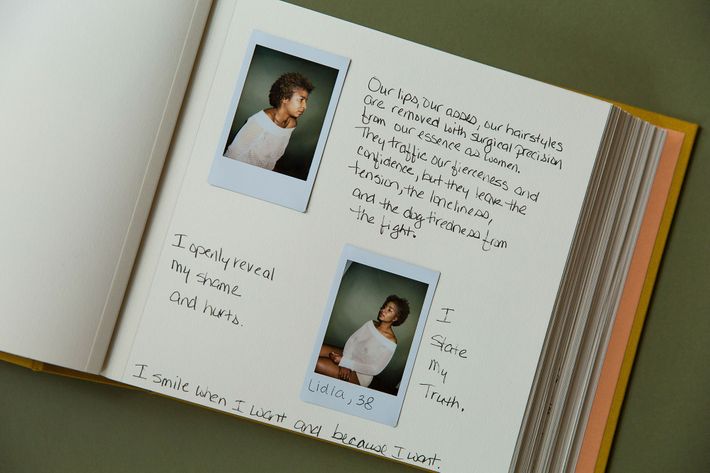 Lidia, 38
"They traffic our fierceness and confidence, but they leave the tension, the loneliness, and the dog tiredness from the fight."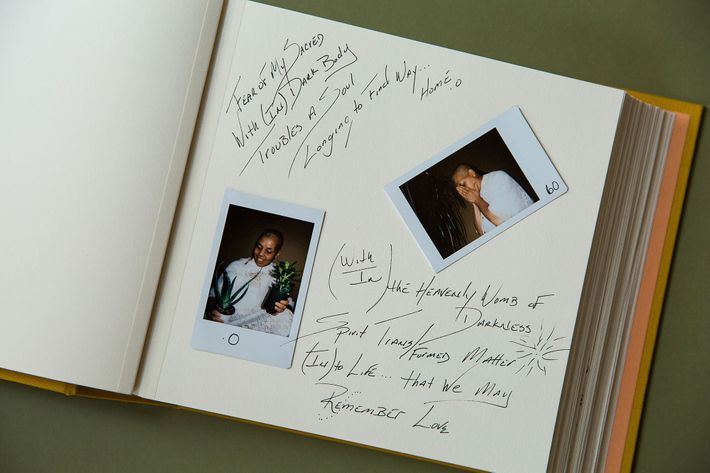 O, 60
"Fear of my sacred with(in) dark body troubles a soul longing to find way, home."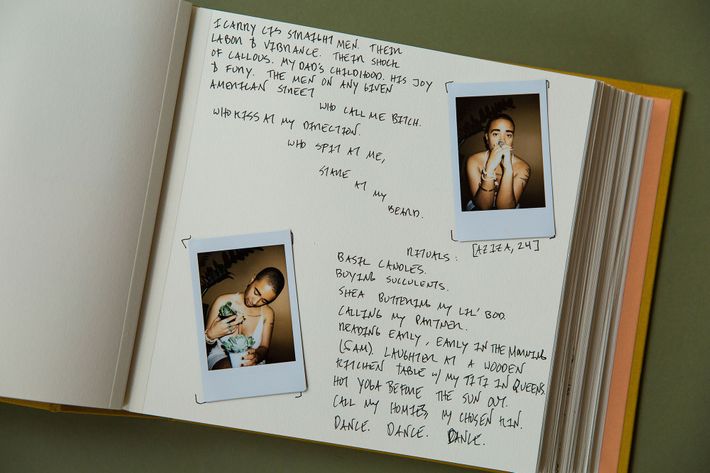 Aziza, 24
"Rituals: Basil candles, buying succulents, shea buttering my lil' bod, calling my partner, reading early, early in the morning…"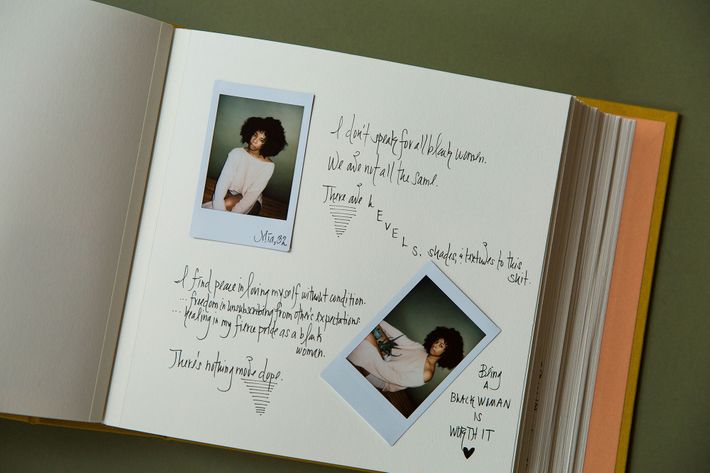 Mia, 32
"I find peace in myself without condition, freedom in unsubscribing from others' expectations, healing in my fierce pride as a black woman."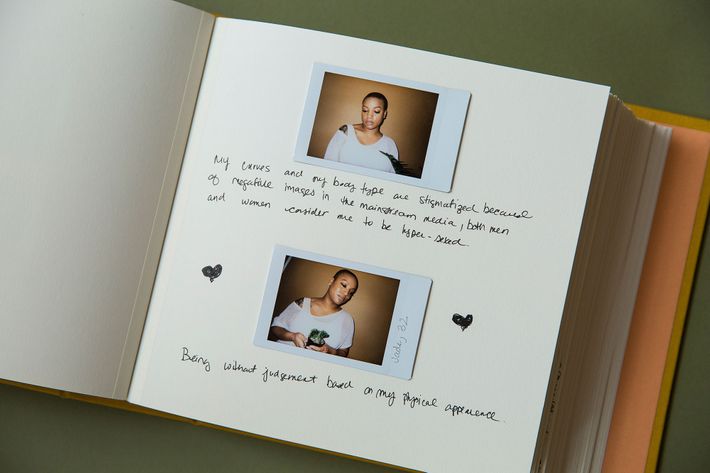 Jade, 32
"My curves and my body type are stigmatized because of negative images in the mainstream media, both men and women consider me to be hyper-sexed."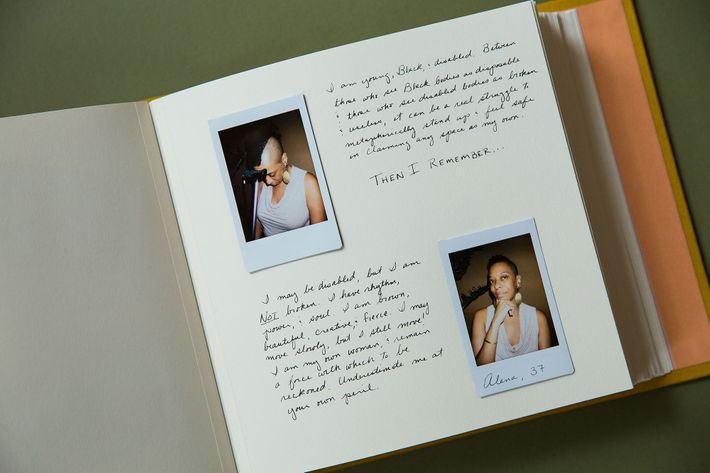 Alena, 37
"I may be disabled but I am NOT broken. I have rhythm, power, and soul. I am brown, beautiful, creative, and fierce."