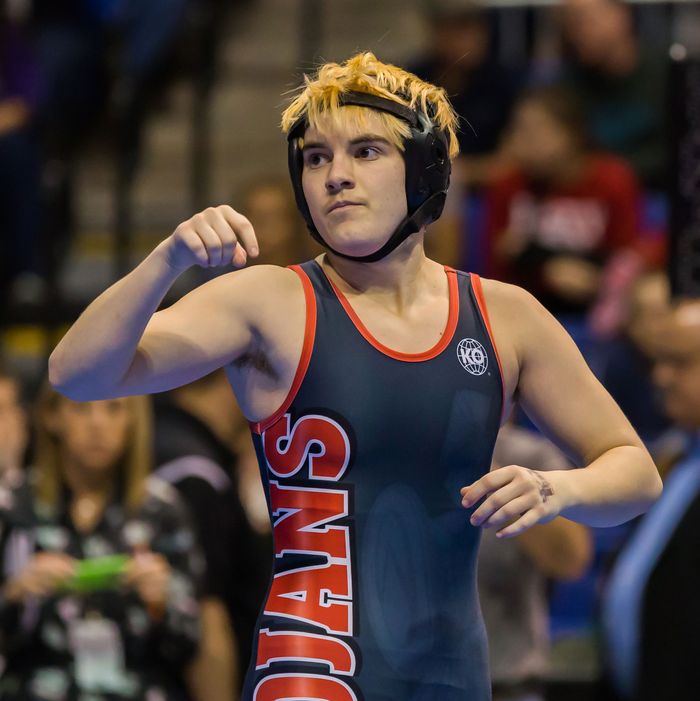 Mack Beggs, a trans boy, recently won a girls' wrestling title in Texas.
Photo: Icon Sportswire/Getty Images
On Tuesday, the Texas State Senate approved a bill that could bar transgender students from competing in high-school sports. Senate Bill 2095, which was introduced by Republican state senator Bob Hall, would let the University Interscholastic League (the governing body for high-school sports) determine whether students who are taking steroids — even under a doctor's supervision — can compete, according to the Texas Tribune.
State law already prevents athletes from using steroids, but it includes a "safe harbor" provision for students taking steroids as prescribed by a doctor. The bill would amend that provision to allow UIL officials to review students' steroid use on a case-by-case basis. Students would have to disclose their prescription to officials and provide medical records, and officials would then decide whether a student's steroid use would affect "fairness of play."
Hall argued that the bill wasn't meant to ban trans students, but to keep things "safe and fair." "This bill is not addressing who plays on what sports," he said on the floor. "This bill is addressing individuals who … are taking steroids."
But State Senator José Menéndez, a Democrat, pointed out that some students are prescribed steroids to help them transition. "I don't think we should ever discriminate against these students," he said.
Back in February, Mack Beggs — a transgender high-school wrestler — won his weight class in the Texas girls' state championship, sparking controversy among some who said the hormones he was taking as part of his transition gave him an "unfair advantage." Beggs's family reportedly pushed for him to compete in the boys' division, but Texas laws require athletes to compete as the gender on their birth certificate.
An amendment to change that rule was also proposed on Tuesday by State Senator Sylvia Garcia, but it was voted down. According to CNN, Texas's House of Representatives could vote on Hall's bill as soon as Wednesday.