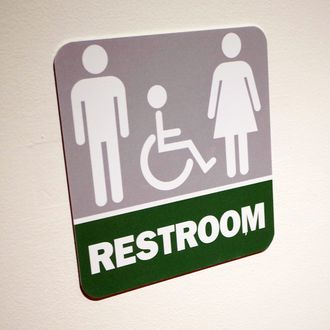 The Texas House approved a bathroom bill on Sunday.
Photo: Mandel Ngan/AFP/Getty Images
The Texas House of Representatives had a busy weekend — on Friday, the legislature passed a bill that would enact extreme abortion restrictions, and on Sunday, it approved a proposal that targets transgender students. The House voted 91–50 to amend Senate Bill 2078 — which covers emergency plans for schools — to include language that says transgender students must use the bathroom that matches their "biological sex," according to the Texas Tribune. If the student "does not wish" to do so, they would be required to use single-stall bathrooms and changing facilities instead.
The amendment is a slimmed-down version of Texas' Senate Bill 6, which would've applied to schools and government facilities. But according to the Tribune, it would override trans-inclusive policies that are already in place in certain Texas school districts. Some lawmakers initially worried that "bathroom bill" legislation would draw boycotts similar to the ones that have cost North Carolina billions, but they're more comfortable with an amendment strictly focused on schools.
Texas Representative Chris Paddie, who sponsored the amendment, said it made "absolutely no intent to discriminate" and that it was meant to make "reasonable accommodations for all children" who want to use separate bathrooms and changing rooms. He added, "That could be because you're transgender, that could be because you're shy."
But Democratic lawmakers compared the bill to Jim Crow–era policies. "White. Colored. I was living through that era … bathrooms divided us then, and it divides us now," Democratic state Representative Senfronia Thompson, who is black, said on the House floor. "America has long recognized that separate but equal is not equal at all."
The amendment still needs final approval from the House, which could come as soon as this week. From there, it will need to be approved by the Senate before it reaches Governor Greg Abbott, who's expected to sign it.
In approving the amendment, Texas is acting against Obama-era guidelines that explicitly stated, "A school may not require transgender students to use facilities inconsistent with their gender identity or to use individual-user facilities when other students are not required to do so." But those guidelines were revoked by the Trump administration, which led to the Supreme Court passing up on a chance to rule on the issue for good. Now states get to decide who uses which public bathroom — just as President Trump intended.