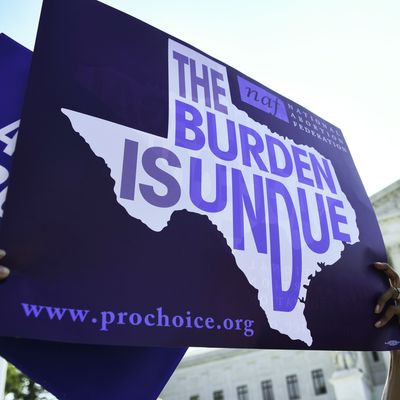 Photo: MANDEL NGAN/AFP/Getty Images
The Texas Legislature pushed through Senate Bill 8 Friday, which places extreme limits on reproductive rights. The bill, which has to be approved in the House and the Senate, focuses on partial-birth abortions and the treatment of fetal remains — specifically, it bans the sale or donation of remains, and requires the cremation or burial of fetal remains. This is despite the federal ruling in January of 2017 that struck down a law requiring the cremation or burial of fetuses.
The proposed legislation pertaining to fetal remains is in response to a debunked video that purportedly showed Planned Parenthood employees discussing the sale of fetal parts. The anti-abortion activists who made the video, David Daleiden and Sandra Merritt, have since been indicted for filming others without their consent and creating false identities.