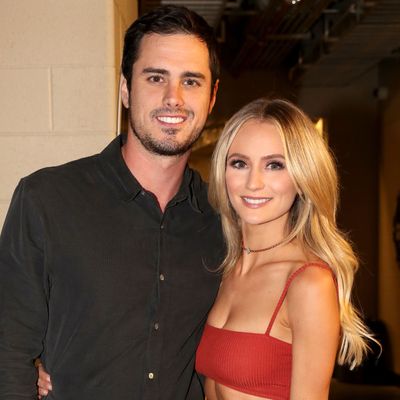 Ben Higgins and Lauren Bushnell.
Photo: Christopher Polk/Getty Images for iHeartMedia
Season 20 Bachelor Ben Higgins and his fiancée Lauren Bushnell have broken off their engagement. The two met on the show at the beginning of last year, and they revealed most of their post-Bachelor relationship journey on the painfully uninteresting Freeform reality show Ben and Lauren: Happily Ever After? Today, they answered that question once and for all, in the form of an exclusive statement to People:
It is with heavy hearts that we announce our decision to go our separate ways. We feel fortunate for the time we had together, and will remain friends with much love and respect for one another. We wish nothing but the best for each other, and ask for your support and understanding at this time.
This news is not exactly surprising, given how confident Higgins sounded about his relationship in an interview with E! News earlier this year. He told the outlet that he was looking forward to taking "huge steps in either getting married or having a really good idea of when we're getting married."
It is not yet clear what Higgins and Bushnell will do in the future, though there's always Bachelor in Paradise. Or, perhaps, Higgins could try running for Colorado's state legislature again. The former Bachelor reportedly abandoned his run in 2016 in order to film Ben and Lauren: Happily Ever After?