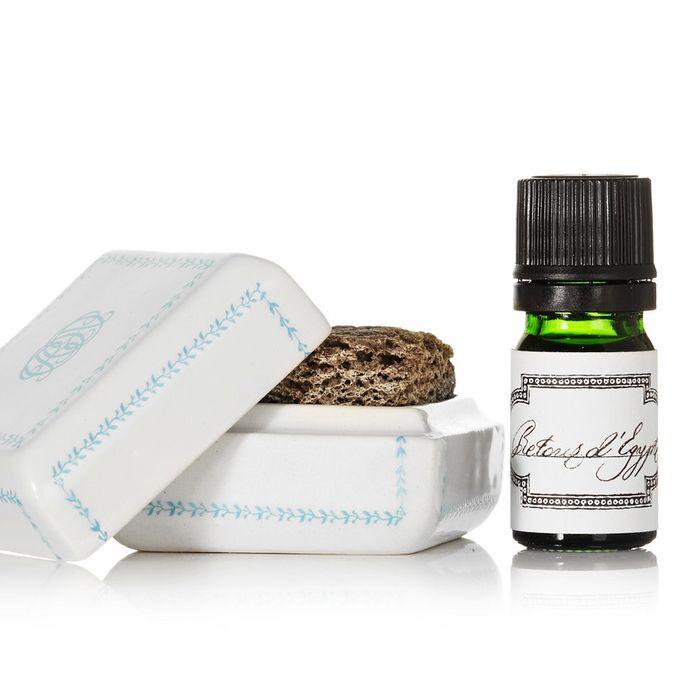 You can have your fancy candles. I have a fancy scented rock, and he comes from the new-yet-old French apothecary brand, Buly.
Let me explain. Buly is L'Officine Universelle Buly 1803 (you can just imagine the trouble the brand had with finding a suitably short Instagram handle). Originally founded in 1803, it was known in the olden days as a perfume and scented-vinegar brand. Its founder, Jean-Vincent Buly, was the inspiration for a Balzac character. After a "century of sleep," per the brand's website, the old beauty brand received a slight revamp from a husband-and-wife pair with a fragrance background, Ramdane Touhami (a former co-owner of Cire Trudon) and Victoire de Taillac.
For a few years, its shop was mostly a nice-smelling secret in the Saint Germain district of Paris, located a stone's throw away from the Seine, where locals and in-the-know visitors could buy luxurious, very giftable toothpastes, body washes, fragrances, and hand creams that you couldn't buy on Bleecker Street, with the product design being 17th-century French, but with color printing. French girls like Caroline de Maigret were fans, calling the tuberose perfume a "perfect purchase" and advising people visiting the shop, which looks sort of like Ollivanders wand shop from Harry Potter, but for beauty products, to be "very nosy" in order to find hidden treasures. They even sold special vibrantly colored nail polish, made out of crushed shells.
Now, you don't have to visit Paris to get some Buly. The brand has opened its first United States store on Bergdorf Goodman's beauty floor, where the salespeople, dressed in Madeline-like cloches and navy blue, have infinite patience to open and close drawers and cabinets and to describe the laborious production process and ingredient makeup of each of Buly's offerings. The products range from the beautiful to slightly quirky, but delightful. Open one cabinet and you'll find a special display of combs, made from a centuries-old tree, that somehow infuse smoothing camellia oil into each brushstroke (a special product that previously only the Japanese emperor had, explain the stores's clerks). There's a vetiver-root brush for your skin from India that looks like your cat's hairball. There's also sheet soap — delicate wafers of soap that make it look chic to be a germaphobe. And, yes, there's the scented rock, sort of like a more compact version of a home diffuser — one perfectly square piece of porous stone that you drop perfume oil into, which sits in its own porcelain case. It's surprisingly effective and fragrant, and won't ever drip wax or require candle trimming. Despite the ye-olde inspiration, the formulations are modern, and they're proudly free of parabens, phenoxyethanol or silicone.
It's worth experiencing a Buly store in person (there are now also stores in Hong Kong and Taipei) because each store comes with a personal calligrapher who can monogram labels and packages for gifts. It's a no-brainer for any kind of housewarming situation this summer. Even if you're just buying something for yourself, everything is lovingly wrapped in intricate folds of lettered paper. But definitely don't forget to check out the scented rock, because it would be a great addition to your rock garden, past or present.
A mint, coriander, and cucumber toothpaste.
Made in a vessel described as "zebra marble."
Yes, it's made of acetate but it's hand-carved and polished in Switzerland. It's also pliable enough not to break and to detangle without causing damage to your hair.