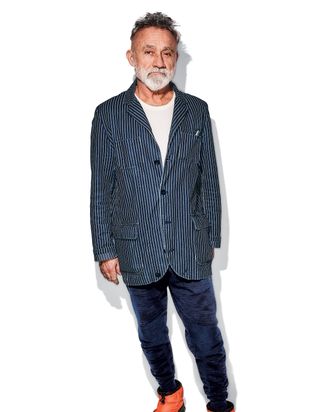 "My two daughters think it's fun to dress their father."
Photo: Bobby Doherty/New York Magazine
Kevin Walz, Designer
Cool sneakers.
My two daughters think it's fun to dress their father. They love buying me clothes and daring me to wear them. These are from Supreme.
Do your daughters live here?
One lives in Germantown and the other in Brooklyn. They were born in New York City but grew up in Rome.
How come?
My wife died of breast cancer in 1990, and during that period, I went to see a psychic and she told me, "I think you're moving to Italy." I said, "Italy? Why would I be moving to Italy? I'm a New Yorker!" Two years later, I got the Rome Prize. I threw the kids in Italian public schools, and after eight weeks, I thought, Why would I ever leave? We stayed there for 19 years, and after my daughters came back to the United States for college, I moved back to New York.
What a good psychic!
I actually went back to her a few years ago, and she told me, "I can see you living in a building; I don't know what it is, but it's incredible and it's not in the middle of the city. It's a building that's not intended to be lived in." I am still waiting to find out what it is.
Lightning Round
Neighborhood: East Harlem.
Born in: Buffalo.
Type of designer: Interior and furniture.
Favorite New York Italian restaurant: Basta Pasta.
Last good book read: Sapiens: A Brief History of Humankind.
Last TV show watched: "I don't own a TV, but my friend Susan Sarandon gave me a copy of her new show Feud."
*This article appears in the May 15, 2017, issue of New York Magazine.