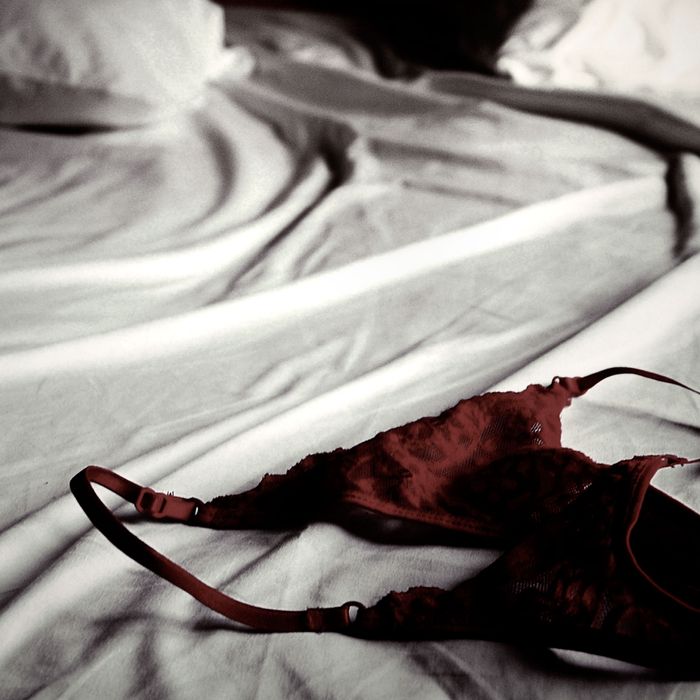 Photo: Getty Images/Getty Images
New York's Sex Diaries series asks anonymous city dwellers to record a week in their sex lives — with comic, tragic, often sexy, and always revealing results. This week, a 37-year fashion staffer with a busy BDSM nightlife: straight, single, Brooklyn Heights.
DAY ONE
5:15 a.m. Waking up for my 6:30 a.m. hot-yoga class. Secretly I am hoping that my crush is there this morning. I absolutely love when I can strategically place my mat behind his.
8:30 a.m. Amazing class done! No crush today, waah. Do the mad dash in the too-small locker room to get ready, a process in which I see way more boobs and lady parts than I would ever desire to.
9 a.m. Work, blah! I despise my job and the executive team that I give the same presentation to over and over and over again. Will they ever retain any info?
1 p.m. In my boredom, my mind inevitably turns to sex. I get a text from Boston — he is in town tonight and wants to have a threesome. Score!
5 p.m. Since I prefer MMF threesomes, I'm going to invite another guy that's been a FWB for about a year. (We actually met at a kink party, so, you know, we knew each other for 15 minutes and then we were fucking.) Boston is game, and we agree to meet at his hotel. I tell FWB to come over later, at 10:30 p.m., so Boston and I can have some alone time.
8:30 p.m. While I am finishing getting ready I get a text from Tech Guy … hmmmm. Should I be extra slutty and meet him after the threesome? My vagina helps me vote no. I table that interaction for a later time.
9:30 p.m. Boston opens the door naked and hard. Jeez, he doesn't waste any time. (Although, I guess I was basically naked under a dress?) We instantly start making out. I am very into BDSM, on the submissive side. I brought a crop, flogger, and some other toys. He puts me over his knee and crops me while slipping in three fingers, my favorite move. After being satisfied with the nice welts on my ass, he aggressively takes off my dress, orders me to the bed, and basically begins to fuck my face — not my fave move, but he really likes it, so I play along. Eventually, he pins me down and rams himself inside of me, with both of my legs over his shoulder. I like rough and aggressive sex; it's one of my top kinks. After deep penetration, some verbal degradation, and two position changes, he gives me a very messy facial.
10:15 p.m. FWB sends a text saying he's running late.
11 p.m. I shower, and FWB arrives. He and Boston have a "bro" moment over man-things to break the ice. There's always that awkward moment at the beginning of a threesome where you wonder who makes the first move … Typically, I will, so I grab FWB's dick. I slowly blow him while Boston goes down on me. This feels great, which is why I love MMF. FWB wants to fuck me and looks for a condom. Meanwhile, Boston is doing an amazing job with my clit, and I show my appreciation by squirting all over his face. (Yes, I can squirt!) Then FWB and I enjoy doggy-style while I blow Boston (sorta unsuccessfully). I start rubbing my clit and squirt a little more. FWB does a nice flip-me-over move, takes off the condom, and cums on my tits. Boston is rock-hard and wants anal. I am not in the mood for that, so I say no. (Which I felt bad about — not sure why?) He seemed annoyed, probably because I never say no to him on anything, but he got over it and seemed okay with vaginal. He fucked me while I rimmed FWB. I hate rimming. Boston wanted to finish in my mouth, so he did and I loved it. We all collapsed on the bed in a brief post-coitus three-way snuggle.
12:30 a.m. Eventually, the three of us showered together, which was part sensual, part awkward angling for the shower head
1 a.m. Good-bye to FWB, sleepover with Boston.
DAY TWO
8 a.m. Overslept! No time for morning hanky-panky.
8:45 a.m. Good-bye kisses for Boston. I think I am starting to develop some feelings for him … but he lives in Boston. Maybe I'm just having a moment.
10 a.m. Yay! No bosses around today. That means I can "pretend" to work. I am hung-over and sleepy.
12:30 p.m. Decided today will be a boy-free day, which means I will not sext or check my various sources for sex: FetLife, Kik, Tinder, WhatsApp.
4:30 p.m. I get a text from the German … ugh, noooo, thanks. We have fucked three times, and every time my entire body is sore. And he seems to be a little into the race-play thing: He often says, while fucking, "I love watching my big white cock going inside your tight black pussy" — which for me is a no-no. I decide to block him.
6 p.m. Bye, office. Yay, weekend.
7 p.m. Drinks with the gals. I love this particular girl group — even our trust-fund-y friend is being more tolerable tonight. Lots of laughs, lots of drinks.
10:30 p.m. Uber home, since my lazy bones can't get on a subway right now.
11:15 p.m. PJs on, happy I didn't hook up tonight.
DAY THREE
8 a.m. Up and at 'em! It's a super Saturday with a close girlfriend, which means two workouts, shopping, lunch, and laughs.
2 p.m. I am feeling anxious about needing to secure plans tonight. I WOULD LOVE TO HAVE A NEGOTIATED NON-MONOGAMOUS RELATIONSHIP. I had a serious boyfriend for two and a half years. We broke up years ago, and continued to have a FWB-type relationship for another three years (I ended that recently). Mostly, I have been casually dating and having sex.
5:30 p.m. Super Saturday is over, and it was spectacular: 45 minutes of spin, 75 minutes of hot yoga, and about three and a half miles of walking! Love.
7 p.m. Relaxing and sexting. Apparently I can only go 24 hours without male contact.
8 p.m. After having phone sex (which is yet another sexual thing that I sometimes feel like I waste time doing) with Tech Guy, we decide we want to see each other tonight. Perfect!
9:30 p.m. I meet TG in my hood for drinks and a make-out session by the water. We decide to head back to mine so we can have sex on the roof (he is obsessed with outdoor sex).
10 p.m. We head up to the roof of my walk-up. The stars are so beautiful. We smoke some weed, and he instantly sticks his hand under my skirt. I typically don't wear underwear on a date when I plan on hooking up. My place is surrounded by high-rises — I wonder if anyone is watching? I don't really care. Tech Guy loves intense eye contact. And fisting me. I have to admit, the fisting is intense, but it does feel amazing.
10:20 p.m. After having an intense orgasm from the fisting, I am basically begging for him to be inside me. At first it was very awkward to fuck on the roof, position-wise. But we figured it out: me on my stomach, him on top, doing this exquisite push-up move. OMG. Everything.
10:50 p.m. TG has a big, gorgeous penis and mesmerizing sea-blue eyes. On my roof, with the stars and clouds behind him and me on my back, naked, while he jerks off into my open mouth, I realize how utterly turned on I am in this moment. This might be one of the hottest sex moments I have had in a REALLY long time.
11 p.m. He finishes in my mouth. I show him, then swallow (for some reason, the show-me kink totally turns me on). I get dressed, we smoke more and talk on the roof. He wants to go again, so we head down to my apartment.
11:15 p.m. He is really into spanking and leaving me covered in welts. My ass is basically on fire, and I say my safe word. Enough of that; time for penetration. TG has one speed: very fast, very aggressive. He is also good at choking with intense eye contact during sex — he is such a dominant. All top-notch things for me. We switch to doggy, my favorite position, and then he stops and says, I am going to fuck you in your ass. I say no, but it means yes. (I am into the consent-non-consent play.) He slowly penetrates me and eventually we get a rhythm … but it hurt too much, so we stop. He normally likes to finish on my face or in my mouth, so I get into position on my back on the floor. In an odd move, he puts his foot on my face. Initially, I freak out, but the submissive in me likes it. While jerking off over me, he decides to slip a toe in my mouth. HAHAHA. He cums on my tits. We both laugh.
12:30 a.m. Yeah, I am obsessed with his penis. Lights out.
DAY FOUR
8:30 a.m. Wake up! TG likes a clit rub to wake me up. Despite being a little sore and swollen, I long to have him inside me. We have a nice, mellow morning fuck.
10 a.m. Good-bye kisses to TG. Back to bed for me.
12:30 p.m. Brunch with my reporter friend, who tells me I should try celibacy. My friends are like my family. I am an only child: My extended family is probs about 300 people, though; my grandmother had about 11 kids.
3 p.m. I decide to walk the two miles home and ponder life. Should I try celibacy?? Hmmm.
5:00 p.m. It's too early for the Sunday scaries, but never too early for rose.
7 p.m. More rosé, and some work emails
9 p.m. Trying to quiet the Monday anxiety. I vow to spend less time chasing sex and more time finding a new job.
10:30 p.m. I get a text from the Bond Trader that literally says, "I need to fuck you now." I haven't heard from him in three weeks. I am tipsy and start to wonder: Hmmm, could I make it up to CPW? My vagina says no. I ignore him.
11 p.m. Suddenly, I'm feeling really, really anxious, and I'm not sure why. Am I just lonely? I revisit the Bond Trader. In a snap decision, I call him. Bad move. He was totally coked out — not attractive. I decide that I need to go to sleep instead. Best decision ever.
DAY FIVE
5:30 a.m. Up for yoga! I promise myself that this week will be less about phone sex, dick pics, hookups, and sexting. However, since I have an above-average sex drive, we'll see how I do.
10 a.m. The day starts off mellow: My presentation went well. Fewer dumb questions. Yippee.
12:30 p.m. Lunch with a good friend who is smitten with her new boyfriend. I want a boyfriend, I think.
2 p.m. Bond Trader texts me. (He called four times last night.) He apologizes for being so fucked up. I say, "Let's check in for later"
3 p.m. Great, I'm given a project that's due by 10 a.m. Ugh, late night at work.
8 p.m. Bond Trader is really trying to lock it down. I am weak. I leave work and Uber to his place.
8:30 p.m. BT is really rolling out the red carpet. He gives me a naked massage, which is nice, and we proceed to have a nice sensual sex session — which is a little different for me, because I mostly have dom/sub sex. He licked me until I had a really earth-shattering, full-body orgasm. It was so wonderful and made me think of him differently, in a good way. While cuddling, he says there is something he always wanted to try. Hmmm?
10 p.m. BT wants to give me a golden shower. Sensual evening O-V-E-R. I decline again and again and again.
10:30 p.m. In Uber headed home. I start crying, while blocking and deleting him. FUCK MONDAYS.
11:15 p.m. PJs/cozy bed/forget golden shower convo/lights out.
DAY SIX
5:30 a.m. Up for hot yoga. I try to go to yoga five days a week — it just makes my life better. I am in a funk this morning, obviously. It always makes me feel bad about myself when men are relentless and try to pressure me to do things I don't want to do.
10 a.m. Today is a day of meetings. It's hard for me to pay attention. Last night is still on my mind.
1 p.m. I solve my funk by sexting with the Brit. I actually like the Brit. He is a nice guy that lives in my neighborhood and is very dominant. He is in a poly relationship. I have met his girlfriend; it was at a play party, and she watched him fuck me. Not sure why she didn't join in.
5 p.m. I decide to leave work and walk the three miles home. I am starting to feel better. The Brit wants to play; I of course say yes.
7:30 p.m. I get ready to walk over to see the Brit. Sometimes I feel like I lead a double life: Most of my friends don't really know that I am into kink and have the amount of hookups that I do. I don't really want the judgment, so I keep the info sharing to a minimum.
8:15 p.m. The Brit is old-school dominant, very focused on rules, and strict. When I come into the apartment, I strip in the foyer, fold my clothes neatly, and go to the bedroom. He is waiting naked, and starts by putting a collar on my neck, then putting me in restraints. We always use safe words, because he can be forceful sometimes. I do enjoy pain, but I have limits. After restraining me, he puts on latex gloves and starts fisting me — it feels so much better with gloves. He is into the daddy/baby-girl dynamic, and I haven't decided if it's weird or hot. After I cum, he starts to paddle me, then he switched to the flogger. I say the safe word. My ass was radiating heat and stinging really badly. We made out and I deep-throated him a little, but he only wanted anal. He is very good at anal, and it felt amazing … I actually orgasmed.
10:30 p.m. We have this little sadistic game we play where he comes on my face or tits and I leave without wiping it off. It's humiliating yet … freeing.
10:45 p.m. I kissed him good-bye with his cum on my chest. Definitely an awkward elevator ride for me and the two other passengers. I loved it.
11 p.m. Walking home, feeling relaxed, remembering that I changed my sheets this morning. I love my bed.
11:45 p.m. Shower, PJs, nice text exchange with Tech Guy, and lights out.
DAY SEVEN
6:30 a.m. No yoga today — I'll go after work. I'm going to approach this day with good vibes.
10 a.m. These bitches killed my vibe. HATE MY JOB.
2 p.m. I secretly want to poison everyone. Well, except the people I like. HA!
3 p.m. I start to fantasize about running away. Then the Chef texts me, and I legit get butterflies.
3:30 p.m. I have been sleeping with the Chef for a year and a half. I actually have a thing for him, but he is a personal chef to a billionaire and basically a jet-setting slave. Sooo, he is not interested in a relationship of any kind. He wants me to come over after work. Like a fool, I agree.
5 p.m. I head to hot yoga, and I am super excited to see him.
8 p.m. I get to his door. It smells amazing. YAY, he made me dinner and has several seltzer and wine options waiting. He is sober now because he had a bit of a coke problem and crashed his previous bosses' Lambo … BAD.
9 p.m. We finish up and make our way to the bedroom. He undresses me and instantly goes down on me. AMAZING. He is into aggressive face-fucking, a little annoying, but I oblige. He pulls away and pins me down and pushes himself inside me. SHIT! No condom; not a good look. Maybe he was too excited, but he came inside me after 15 minutes. That was a disappointment.
9:30 p.m. After he climbs off me, I literally felt like I was going to burst into tears but didn't, obvs.
9:45 p.m. Instead, I save that quiet cry for the bathroom.
10:15 p.m. We shower, have a quickie in the shower, talk about how he is contemplating a job with another A-list couple (which I think is a stupid idea since he already has no life), then get ready for bed.
11 p.m. Lights out. He is already snoring next to me. I stare at him and think, Maybe I should be celibate for a while.
Want to submit a sex diary? Email sexdiaries@nymag.com and tell us a little about yourself.