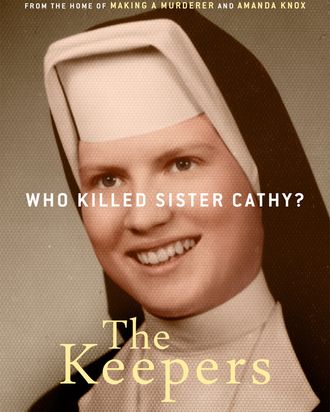 Photo: Courtesy of Netflix
In 1969, months before she was murdered, Sister Cathy Cesnik asked her student, 16-year-old Jean Hargadon Wehner, if Father A. Joseph Maskell was abusing her. "Is anyone making you do something you don't want to do?" They sat facing each other in her empty classroom. The girl nodded. "Is it the priest?" When recalling this moment, Jean Wehner says she nodded again.
Cesnik hugged her and said, "I'm going to take care of this. I want you to go home, and I want you to have a wonderful summer." The next fall, she disappeared. Her murder is one of Baltimore's most infamous cold cases: On the evening of November 7, 1969, the 26-year-old nun left her apartment to go shopping for an engagement present for her sister and never returned. That same night, hours after her roommate, another nun, reported she was missing, Cesnik's car was found abandoned near her apartment — parked haphazardly on a corner, with muddy tires and a twig lodged in the steering wheel. Nearly two months later, she was found dead in a field.
Netflix's new true-crime show The Keepers, a seven-part documentary series premiering today, begins by revisiting the mysterious details surrounding Cesnik's disappearance: Why did her roommate call two priests for help first? Why did it take all three of them so long to call the police and report she was missing? How did Cesnik's car suddenly reappear on her street?
But episode two and the show's following segments focus just as intently on Jean Hargadon Wehner, the girl in Cesnik's classroom who was a student at Archbishop Keough High School, a Catholic all-girls school in Baltimore where Cesnik taught and where Father Maskell was a chaplain and guidance counselor. In 1994, over two decades after the murder, Wehner and another former Keough student filed a $40 million lawsuit against the Archdiocese of Baltimore, accusing Father Maskell of sexual abuse.
Director Ryan White has dismissed the show's comparisons to Making a Murderer and Serial, insisting the show is different because it focuses on the victims. "It's not necessarily about the perpetrator," he said. "Of course we're asking the question, 'Who killed her?' but it's also about her life. It's also about child sex abuse … and that, unfortunately, is the dark underbelly of this entire story. What we're looking at is, yes, a murder, but it's also about the foundational crimes that may have led to that murder."
This is the most crucial aspect of The Keepers: The show gives a voice to survivors of the alleged abuse and shows how their stories were largely erased by the Catholic church. More than 30 men and women claimed they were also abused by Father Maskell as testimony for Wehner's 1994 lawsuit, but the priest was never charged. He was permanently removed from the ministry that year, briefly fled to Ireland, and died in a Baltimore nursing home in 2001, one year before the Baltimore County Police Department launched its cold-case squad.
The Keepers began with the director's personal connection to the story: His aunt was Cesnik's student and a friend of Wehner. The Netflix crew spent three years filming 750 hours of footage, interviewing dozens of relatives, friends, journalists, and authorities. They center on two of Cesnik's students, Gemma Hoskins and Abbie Shaub, who have spent years investigating what happened to Cesnik. The two women present their findings and debate theories throughout The Keepers.
Perhaps the most interesting aspect of the The Keepers is how Cesnik's cold case is unfolding now offscreen: Earlier this month, Baltimore police announced they exhumed Father Maskell's body from a cemetery in February for DNA testing, but they said the timing had nothing to do with Netflix's release. This week, authorities revealed the priest's DNA does not match evidence found near Cesnik's body, and that the results don't necessarily clear him as a suspect. "Our best hope for solving this case at this point lies with the people who are still alive," a police spokesperson said. "We hope that someone will be able to come forward with conclusive information about the murder."
Police have also said they're investigating possible connections with the murders of three other women whose bodies were found in areas near Cesnik: 20-year-old Joyce Helen Malecki, who disappeared four days after Cesnik (her story is also examined in The Keepers); 16-year-old Pamela Lynn Conyers, who went missing in 1970; and 16-year-old Grace Elizabeth "Gay" Montanye, who disappeared in 1971.
All four women went missing from shopping areas during the same time period, according to police, but their bodies were found in different law-enforcement jurisdictions, which delayed linking the cases for many years. None of the cases are solved.