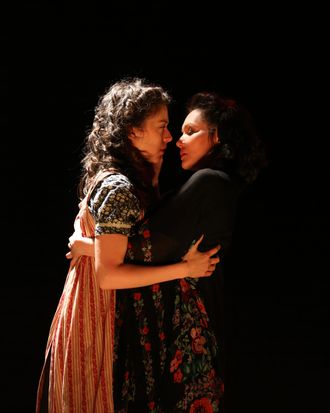 Actresses Adina Verson and Katrina Lenk in the pivotal kissing scene of the Broadway play Indecent.
Photo: © Carol Rosegg
The first lesbian kiss on an American stage was performed in Greenwich Village nearly 100 years ago, in 1922. When the play moved uptown to Broadway shortly after, the scandalous kiss was cut — and the play still caused an uproar: Police shut the theater down, the cast was arrested, and an obscenity trial followed. It was the Yiddish play God of Vengeance, a drama written by Sholem Asch in 1907 about the erotic awakening between two women. That the women in question were a brothel owner's virgin daughter and one of her father's prostitutes only added fuel to the fire.
The Pulitzer Prize–winning playwright Paula Vogel discovered the script in 1974, while studying for her Ph.D. at Cornell, and when she read the kissing scene, she felt electrified. God of Vengeance is the inspiration behind Vogel's new play Indecent, co-created with director Rebecca Taichman and now playing on Broadway (both women's debut) after a sold-out run at the Vineyard Theater.

Indecent's pivotal kissing scene is modeled after a similar embrace in God of Vengeance: A young girl named Rifkele (the virgin daughter, played by Adina Verson) and a prostitute called Menke (Katrina Lenk) tiptoe quietly to the brothel's rooftop while it's raining. Their faces — illuminated by moonlight and slick with raindrops — converge in a kiss that affirms their longing, and triggers the the play's climax. When Rifkele's father discovers that she's spent the night with Menke, he raises the Torah in a rage and banishes her to the brothel to join her lover.
Portraying lesbian lives on Broadway in 2017 is of course far from shocking, after many Broadway plays have featured prominent lesbian characters — including Tennessee Williams's The Night of the Iguana (1961), though New York State law prohibited overt depiction of homosexuality onstage until 1967, and the musicals Falsettos (1992), Rent (1996) and The Color Purple (2005).
But it's far rarer to see the works of celebrated lesbian playwrights on Broadway — Vogel pointed out that lesbian playwrights writing lesbian stories have never enjoyed the same visibility as their gay male counterparts. The recent success of Alison Bechdel's 2015 Tony-winning musical Fun Home, which features a lead lesbian female protagonist and girl-on-girl kiss, helped crack the glass ceiling.
Vogel had never read anything like God of Vengeance. In 1974, Broadway especially was still a man's domain. The year before, every Tony nomination for writing and directing had gone to men (shamefully, it's not much better now). At Cornell, women couldn't even receive first-year fellowships or write about feminist theater and be taken seriously. Even in the late '90s, when Taichman was studying at the Yale School of Drama and discovered the play for herself, it still seemed radical and revolutionary. "I was in love with a woman at the time so it affected me very personally," recalls Taichman. "But more than that, I was shocked that it didn't have a bigger place in theater history, especially considering the 1923 Greenwich Village performance marked the first lesbian kiss on an American stage." Traichman became obsessed with keeping its memory alive, but it would take many years, and one audacious phone call to Vogel, who'd since won a Pulitzer Prize, to make it come to life. Was the world ready for a play about two women in love? Is it now?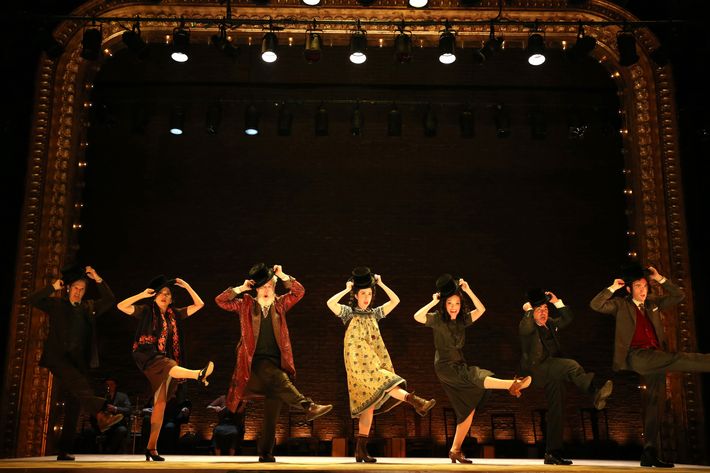 Indecent's critics' reviews and responses online have been overwhelmingly positive. But Vogel, whose work has always mirrored and challenged societal norms, acknowledges that progress can come and go. "I have always felt both the beauty and the danger of the presentation of lesbian sexuality in public. I'm a woman who has been jumped on in the street and beaten by men." Even now, she says she sees tweets saying, "I love this play but don't see it if you have problems with lesbianism." To which she wants to reply, "Go see this show if you have problems with lesbianism!" Her point is that Indecent portrays a love story that transcends gender, race, and religion — it's about two people who want to be together — and she hopes it'll encourage audiences to understand the experience is universal, and that it will also widen the scope for the types of stories seen on Broadway.
"One of the difficulties I've had is that there is this belief that a play should be about one thing: Have a single protagonist, hopefully male, and have one satisfying orgasm at the end of the evening," Vogel said. "This leaves out a huge part of global drama." To her, that drama includes female, lesbian, trans, black, and Muslim stories, narratives about religious minorities, and many more — lifestyles that need to be validated and portrayed as beautiful. "In a sense, right now we are all lesbian. We are all Jews. We are all Muslim," says Vogel. "I don't claim to represent any of these groups, but I do think that when one minority is under attack then we are all under attack."
Though a lesbian kiss on Broadway is no longer shocking in 2017, perhaps the most shocking aspect is that Indecent came to Broadway in the Trump era — at a time when hate crimes against minorities are on the rise and the political rhetoric used to perpetuate fear eerily parallels that of the 1920s. It's naïve to think that the themes in Indecent are ancient history. "Never in my worst nightmares could I have guessed or wished that this play would be so relevant," Taichman lamented. It's more shocking that the freedoms generations have fought for, like freedom to love who you like, same-sex marriage, gender equality, and freedom of speech, are still at risk.
Indecent is playing until September 10 at the Cort Theatre.