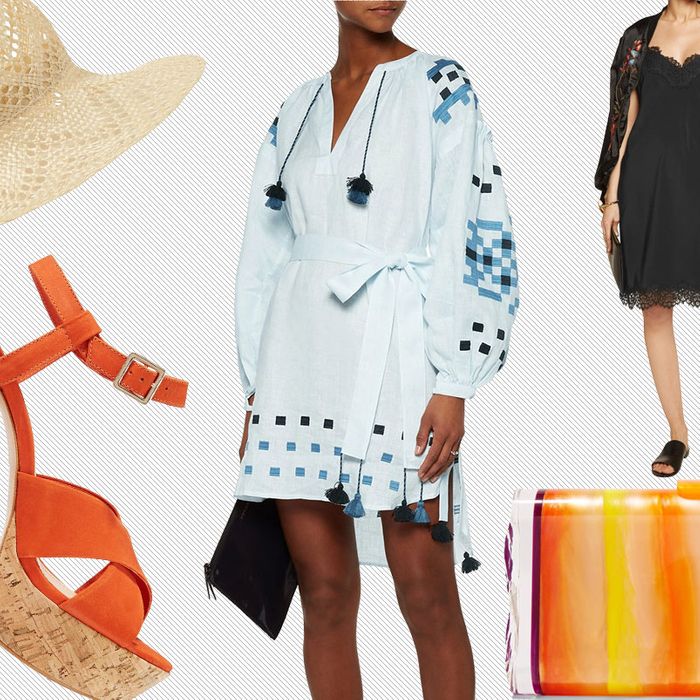 With just two weeks until Memorial Day, you're itching to get your summer started. You have weddings to attend, beach days on deck, and maybe a few adventurous escapes to plan out too. The Outnet gets it. They're one of our favorite go-to retailers for discounted designer looks, and their Summer Shops Collection is just the thing for planning your next few months. The collection allows customers to view their curated selections in three sections: relaxation, party, or exploration modes. So whether you're planning to party all night, explore the caves of Bermuda, or relax by a beach, they've got you covered with tons of bikinis, dresses, and sandals for every occasion. Scroll ahead to see our favorite pieces.
Relaxation Mode
Yes, you'll still need sunscreen, but also wear this pretty straw hat to protect your face from the sun.
This swimsuit looks good on different skin tones — a rarity when it comes to bathing suits in this color range.
A maxi dress is the smartest thing to pack for a vacation — use it as a cover-up or wear it to a low-key dinner.
Hands-free ease so you can hold a cold drink in one hand and your phone in another.
Party Mode
A bright platform sandal adds height but is comfortable enough to wear all night.
Even though there are cheaper versions of this trendy silk dress, this is cut in a way that flatters your body, instead of hugging in weird spots.
When you want to wear awkward jeans and add a little height, put on these clompy wedges.
Edie Parker is known for her colorful, durable, and highly photogenic acrylic clutches. Here's your chance to get one at a discount.
Exploration Mode
Cheap, cheerful, and ready for the beach.
This is the kind of bag that you see and wish you could find at a great vintage shop. It's actually a new style from Sensi Studio — a brand that crafts artisanal pieces in a modern, affordable way.
Black sandals are always a good buy. They're practical, stylish, and can dress up even the simplest white T-shirt and jeans.
You've probably seen these March11 dresses on Instagram already — they're popular because they're made from beautifully embroidered linen and look like you found them at some exotic open-air market.
Jumpsuits run the risk of looking sack-like at times, but this one features a wide belt that'll define your waist.
If you buy something through our links, New York may earn an affiliate commission.