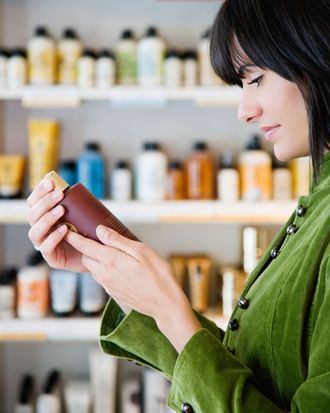 Photo: ColorBlind/Getty Images
Senators Dianne Feinstein and Susan Collins are proposing a bill that will give the FDA the additional authority to regulate the safety of beauty products. If you thought that the FDA was already doing that, you were mistaken: No beauty products (except for color additives) require FDA approval before going to market. The FDA does regulate beauty products on a very limited basis under the Federal Food, Drug, and Cosmetic Act, but at a literal surface level: Only to prohibit "adulterated or misbranded" cosmetics from being sold. Product recalls with hazardous chemicals are even described as "voluntary" on the FDA site.
The Personal Care Products Safety Act would mandate many things that would give the FDA more oversight over beauty-product safety. Among them:
-The FDA would have to evaluate a minimum of five ingredients per year for safety.
-The FDA could order recalls of questionably safe beauty products.
-It would require complete ingredient information for products to be available online and printed on labels.
-The FDA could require products that include ingredients not suitable for children to be labeled.
-The FDA could issue regulations on Good Manufacturing Practices, as they relate to beauty.
Feinstein said, "From shampoo to lotion, everyone — women, men, children — uses personal-care products every day. Despite the universal use of these products, none of their ingredients have been independently evaluated for safety. This puts consumers' heath at risk and we urgently need to update the nearly 80-year-old safety rules."
Although the bill was just introduced today, it's already received support from a number of beauty companies including Estée Lauder, L'Oréal, Johnson & Johnson, the Honest Company, Juice Beauty, Revlon, Procter & Gamble, and Unilever. You can see the full bill here. It's an ambitious but much-needed piece of legislation, and as a number of lawsuits have indicated, it's about time.