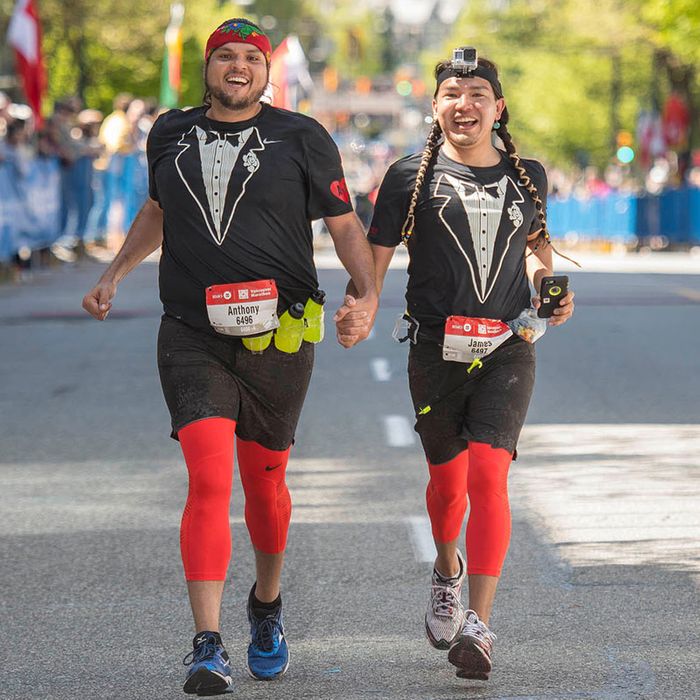 Anthony Johnson and James Makokis.
Photo: Adrian Ortega/Vancouver Marathon
Talk about being in it for the long haul. Anthony Johnson and James Makokis pulled off a remarkable wedding midway through the Vancouver Marathon on May 7, where they got married in a ceremony on English Bay Beach, around the 20-mile mark. Johnson and Makokis wore tuxedo T-shirts, black shorts, and red leggings during the run; they quickly put on tuxedo jackets for the ceremony, which lasted about 30 minutes. Then they resumed their run and hit the finish line as a married couple.
Johnson told the Cut via email, "We actually met while I was living in Brooklyn working for a boot company. James was the 'centerfold' in Out Magazine for an article on the Montana Two Spirit Society. I emailed him to ask questions about the content of the article and we started chatting thereafter. He visited me in New York for my 30th birthday where we biked the entire city and had one of those only in New York romantic kind of days. That's the day that really started our relationship."
The ceremony was designed to honor their respective Native heritages;
Johnson is from the Navajo Nation and Makokis is from the Saddle Lake Cree Nation.
Johnson wrote, "With the help of our family and friends, we were able to create a low cost, eco-friendly pop-up wedding that was elegant, romantic, and exemplary of our Indigenous heritage. Through this simple act, we hope others are inspired to dream outside the box and live their love loud and proud!"