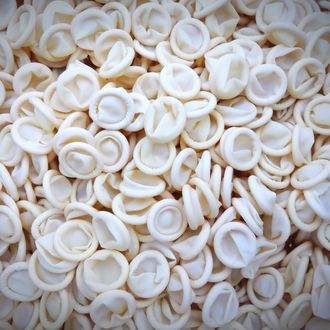 Photo: Khairul Azha Abu Bakar/EyeEm/Getty Images
Over 30,000 condoms and $10,000 worth of sex toys were stolen over the holiday weekend in a heist pulled off by a pair of highly confident safe-sex enthusiasts.
After high-end sex-toy company Lelo discovered that their Las Vegas warehouse was robbed twice, the company published security footage of the incidents on their blog. They also slammed the robbers in their post, writing, "One hopes that they stole those condoms, got into a time machine, went back 18-25 years (by the looks of it), and presented them all to their own fathers."
It's unconfirmed if the same two robbers were involved in both heists, but Lelo is presuming that's the case. As for how it went down: On Friday, May 26, the thieves snuck into a back gate and took off with their condom haul. The next morning, they returned — ramming their car into the loading dock in the process — and grabbed three boxes of sex toys. That haul included 48 Kegel exercisers and 33 prostate massagers.
Sex positivity has truly gone too far.