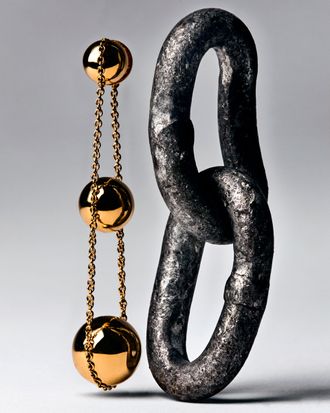 Photo: Bobby Doherty/New York Magazine
Introducing Finer Things, a photo series with a playful approach to elusive, glamorous fashion items we're fixated on right now.
—

Tiffany & Co. may call to mind Audrey Hepburn, engagement rings, and boxes tied with neat, white ribbons, but this month the luxury powerhouse launches a more industrial, pared-down collection. The HardWear styles, as they are called, were inspired by the current-day women of New York and the jewelry they presumably would wear on a daily basis. Comprised entirely of 18-karat gold, rose gold, or sterling silver, the elegant-but-sturdy designs come in 17 styles — from a chain-link bracelet inspired by one in the 1971 archive, to a simple ring with a metal ball. We are particularly taken with these dangling earrings, made of three symmetrically set spheres that swing on a chain like a chic Newton's Cradle on your ear. And speaking of physics, they are just the thing to balance an updo on a hot summer night.
If you buy something through our links, New York may earn an affiliate commission.