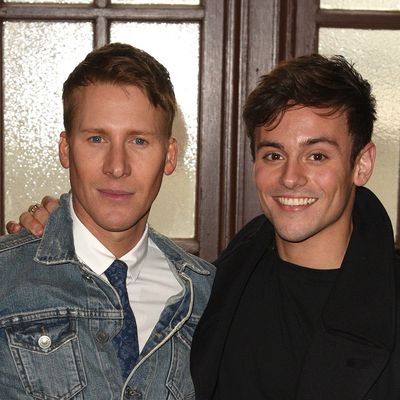 Dustin Lance Black and Tom Daley attend a screening of ABC's When We Rise.
Photo: C Flanigan/Getty Images
Olympic diver Tom Daley married Oscar-winning writer and director Dustin Lance Black at a posh Devon castle hotel over the weekend. The two announced their engagement in 2015 with a traditional ad in the Times of London after dating for two years.
In a 2013 YouTube video, Daley told fans he was in his first relationship with a man, although he didn't mention Black by name. "Come spring this year, my life changed, massively, when I met someone, and they make me feel so happy, so safe, and everything just feels great … And, well, that someone is a guy."
Daley told the Guardian in 2015, "I always knew that I had that attraction to guys, but I just thought that was a usual thing, being attracted to guys and girls. It was only when I met Lance I started having such strong feelings."
As for rumors that Daley reenacted a scene from Romeo and Juliet, a guest told the BBC, "I'm not sure which wedding they were at, but it wasn't the one I attended."