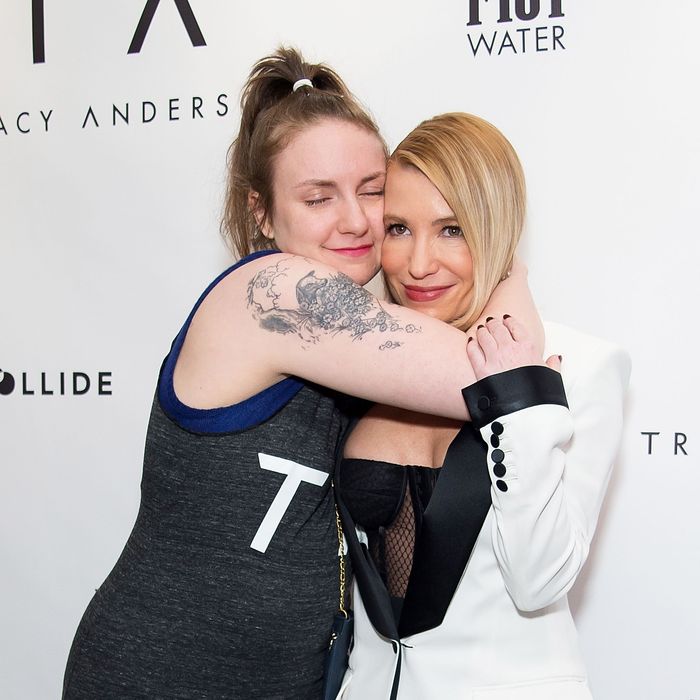 Lena Dunham and Tracy Anderson.
Photo: 2017 Michael Stewart/Getty Images
Lena Dunham (and Gwyneth Paltrow's) trainer Tracy Anderson is standing by Dunham's anti-diet-culture Instagram. At the Wellery, the new second floor of Saks's Fifth Avenue flagship dedicated to wellness that's open from now through October, you can get a manicure at Sundays while practicing meditation, golf on a virtual driving range, or browse racks of glittery athleisure. But last night swarms of people were lining up to take a picture with celebrity trainer Tracy Anderson.
Despite being known for her difficult (to put it mildly) training sessions, Anderson is a big believer in the mind-body-spirit connection of wellness or as she puts it, "living your truth physically, intellectually, emotionally, and spiritually." That approach feels especially true of one of her clients and friends, Lena Dunham.
Earlier this week, Dunham posted her "20 diet tips" to Instagram, following a picture of her that ran on a magazine cover that promised "slimdown" tricks. The non-"tips" disparaged diet culture and included "anxiety disorder" to "worrying ceaselessly about the health and safety of women you know and women you don't. "
Anderson fiercely backed Dunham, telling the Cut, "The thing about Lena is that I love that she fires back … She is an advocate for all things good, she's a living angel in this world, she does not give a shit what the scale says. She's really truly fought really serious health issues and she's been so transparent about it and how lucky is everyone that she's been so transparent about it?"
If there was any doubt how Anderson felt, she followed up with, "She's such an advocate, she's articulate, and she's actually smart enough to handle shifting this terrible continuum of so much judgment on women that is terrible, a definition of beauty that's absurd that needs to be torn down."
Dunham is, in fact, so articulate she can derail the Today show with a single word.