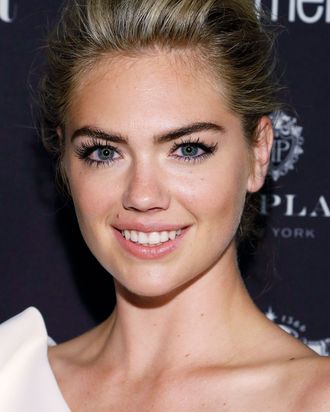 Photo: Taylor Hill/FilmMagic/Getty
I've spent roughly 15 years of my life putting on mascara. Of all of beauty's many involved rituals, from contouring to the ten-step Korean skin-care routine, I thought I had at least nailed down the simple act of brush-swipe-wiggle-repeat (the wiggle being a new trick I picked up a few years ago, after watching Bobbi Brown backstage). Then I met celebrity makeup artist Tracy Murphy. Creator of the new lash-focused tool and makeup brand Lash Star, Murphy taught me that you can teach a skeptical beauty editor new tricks. A self-proclaimed eyelash obsessive, Murphy has been giving "lashovers" — lash makeovers — to everyone from Ashley Graham to Kate Upton, and came over to the office to give me a lashover of my own.
I've long believed that everyone has a unique lash type, as we do skin and hair types. I have always thought that I had long, straight, fine, but slightly depressed-looking lashes that point slightly downward. My friend Kathy has short but full lashes that point in every single direction. Meanwhile, my other friend Kendall has long, curly, but naturally sparse lashes.
Murphy agrees with me, which is why Lash Star Beauty offers products for different lash types, and includes a Lash Diagnosis on its site. "Everyone has a lash type!" she says, asserting that lashes have different lengths, textures, and degrees of thickness. For the sake of simplicity, she breaks lashes into five categories: Straight, Straight Down (lashes that point slightly downward), Natural Bend (those with lashes like my friend Kendall), Combination (a mixture of types), and Overcurled (who knew this was such a thing?). To diagnose my lash issues, she got right in my face, and stared deep into my eyes. "You have rows of lashes, almost on top of each other," she said. And it's true — until this very moment, I never noticed that my lash line doesn't contain neat, straight rows, but small clusters of growth throughout. She even pointed out baby eyelashes close to my inner eye that I never even noticed (or apparently, ever coated with mascara).

Murphy has a "no lash left behind" policy. Every lash is coddled with mascara and a curler. To truly see the results of the lashover, she worked her magic on just my right eye. We started first with Lash Star's Supreme Curler, a curler with an especially wide clamp to fit a greater variety of eyelids. I clamped the lash curler starting at the base of the eyelashes, and Murphy instructed me to grip the lash curler and bend my wrist slightly up, so that the curler was raised. This tiny difference lifted my entire lash line, making my eyes instantly look more perky and awake. Then, she instructed me to get into the baby lashes — those short, stubby lashes at the inner and outer corners of my eye that I had previously ignored. We used an Individual Lash Curler, a tool that looks like baby forceps, designed to perfectly curl lashes too tiny and small to be captured by a regular eyelash curler. "It won't hurt," Murphy promised. And she was right — even though I clamped the cold, metal forceps dangerously close to my tear duct, I didn't feel a thing. The difference in curling the baby lashes was instantaneous — my eyes looked wider and farther set. Murphy even instructed me to turn the curler upside down and curl my bottom lashes as well, which gave them a vaguely Twiggy look. For that extra mile in curl, we used the Heated Lash Curler for the outer third of my lashes, pressing what looks like a small hot tool eyelash comb gently against some of my outer lashes.

With my lashes standing full and perky (kind of how your breasts look in a custom-fit bra), I would have stopped here. But the lashover experience is not complete without Murphy's Full Control Lasting Mascara, which claims to boost lash volume up to 4,100 percent. This statistic sounds terrifying — what do 4,100 percent amplified lashes even look like? Tree roots jutting out of your eyes? But I gamely let Murphy apply it to my eyes anyway.
Her two-ended mascara consists of a tiny, fine wand on one end designed to grab every lash and a bigger comb at the other to tease out volume. With absolute precision, Murphy painstakingly painted each lash (keep in mind, there are somewhere between 70 and 150 lashes per eye). The ones closest to the inner corner of the eye were combed toward the inner corner of the nose. The middle lashes were combed straight up. And the outer lashes were combed toward the brow, with an extra dab of mascara at the very end to make them look slightly more cat-eye-shaped. The result of this lash blowout was a fully fanned-out, thick-but-not-unnaturally-thick lash line that emphasized the natural almond shape of my eye and gave it the full, sexy look you see in mascara ads. Then Murphy added a final coat of mascara using the bigger silicon wand at the other end of the brush. This made my lashes stand even more at attention — like adding an extra inch to a stiletto.
Examining my pre- and post-lashover eyes, the difference from the left and right eye was stark. My left eye was Liz Lemon — totally fine and average-looking. It said, "Yes to love, yes to life, yes to staying in more!" My right eye was Jenna Maroney — a perfectly coiffed star who marches into conference rooms and yells, "Listen up, fives, a ten is speaking." Since my lashover, my daily lashes are somewhere between a Lemon and a Maroney. But it's nice to know that with the right curling technique and tools, they can be a ten if they want to be.