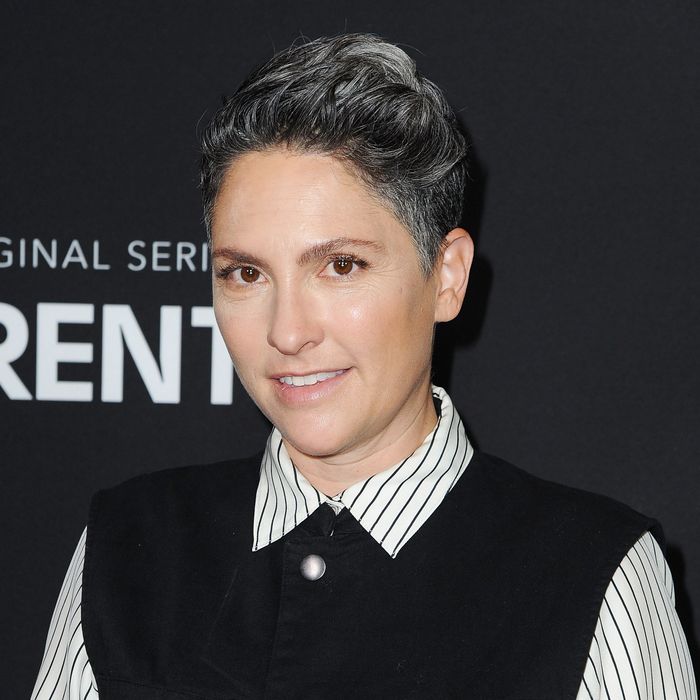 Jill Soloway.
Photo: ANGELA WEISS/AFP/Getty Images
Jill Soloway recently called for the patriarchy to be toppled during the Emmys, and she meant it. The Transparent creator opened up about the frustrating lack of female representation and the dominance of cisgender men in Hollywood in a new interview with the Los Angeles Times.
Speaking as part of a roundtable discussion with other members of the Transparent family, which included actors Judith Light, Alexandra Billings, Amy Landecker, and Gaby Hoffmann, and writers Ali Liebegott, Bridget Bedard, and Our Lady J, Soloway told the Times that women won't have a place at the table in Hollywood unless cisgender men are "stopped."
"I think people don't really actually talk about what their real issue is, which is that white, cis men — not straight men, but cis men — have had their hands on the narrative ever since filmmaking has begun," Soloway said. "In doing so, they very naturally tell stories that resonate with themselves. They very naturally use women, people of color, queer people as objects in the story lines that they find interesting."
Soloway went on to say that these men aren't doing it "on purpose"; instead, they are merely telling their own story. But because most of the distributors, reviewers, and film executives in history have been cis men, that means different stories just aren't being told.
"You can have a couple of diversity programs — but come on. This is going to sound really crazy, but there isn't going to be any room for these other voices unless the white cis men actually are just stopped. None of them are going to do that," Soloway said.
But with her aptly named production company Topple, and a desire to continue to tell interesting stories, Soloway is doing her part to make Hollywood more diverse.