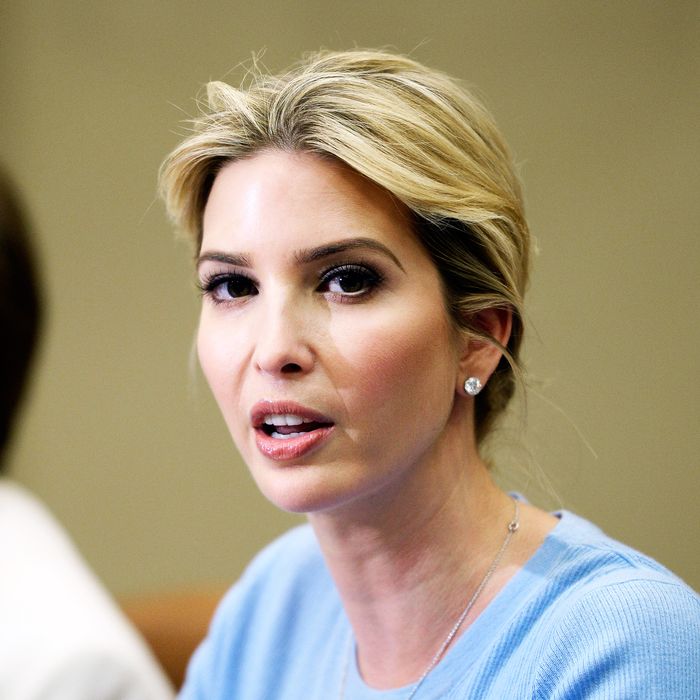 Ivanka Trump's paid-leave plan made it into the budget.
Photo: OLIVIER DOULIERY/AFP/Getty Images
Next week President Trump will present his first detailed budget request, and according to the Washington Post, it will include something his daughter has been pushing for since he became the Republican nominee: paid family leave.
Two senior White House officials told the Post that the budget requests funding to create a program that will give both mothers and fathers six weeks of paid leave after the birth or adoption of a child. (The first iteration of the plan focused on birth mothers, but it was revised after facing criticism.) Details like, say, how exactly it will be funded still need to be worked out, but the First Daughter is expected to play "a central role" in crafting the policy.
A White House official said the program will cost around $25 billion a year and will benefit about 1.3 million new parents. They added that the program has no income limit, but that there will be some sort of cap for high-earners.
But although the budget sets aside money to implement paid leave, it makes deep cuts to other social programs such as housing, education, environmental protection, foreign aid, and anti-poverty initiatives. For example, it calls for a net $9.2 billion cut to the Department of Education, which would come from eliminating at least 22 programs, including after-school programs that serve 1.6 million children (most from low-income families) and a $15 million program that provides child care for low-income parents in college. Other programs — such as the Obama administration's Promise Neighborhoods, which is meant to support kids in needy communities — would remain, but see their funding slashed.
It also cuts $200 million in funding for the Department of Agriculture's Special Supplemental Nutrition Program for Women, Infants, and Children (WIC), a program that "provides grants to states for supplemental foods, health-care referrals, and nutrition education for low-income pregnant and postpartum women, infants, and children who are at nutritional risk," according to the budget document.
And it calls for a 17.9 percent decrease in funding for the Department of Health and Human Services, which could impact community health centers that rely on federal money to serve more than 21 million mostly low-income patients.
So although Trump's inclusion of six weeks' paid leave is a step forward, it's undercut by the harm the rest of his budget will do to some of the very people who voted for him. "For all the lip service [Trump has] paid to addressing child care, his budget will lead to millions of children being cut from crucial child-care assistance programs," said Tracy Sturdivant, the director of Make It Work, in a statement. "This budget doesn't work for anyone but Trump's millionaire friends."