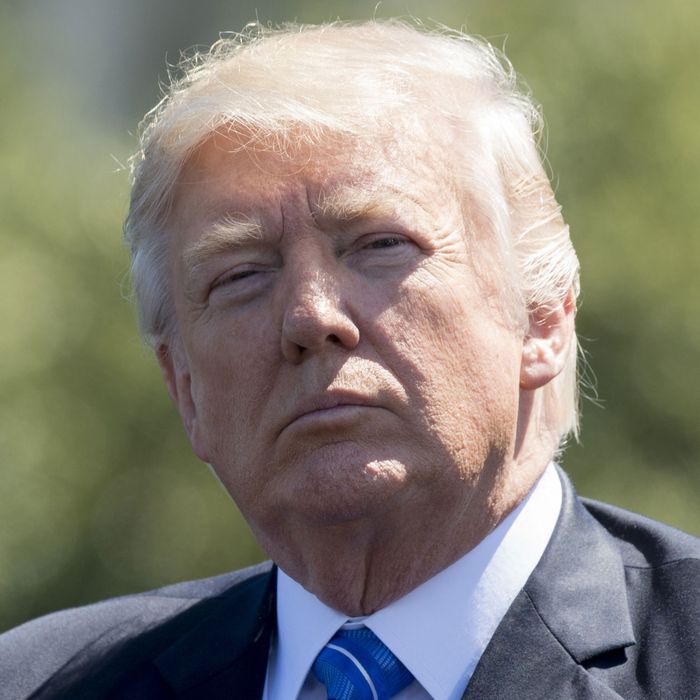 President Donald Trump.
Photo: SAUL LOEB/AFP/Getty Images
Shortly after taking office, President Donald Trump reinstated a Reagan-era rule called the Mexico City Policy — otherwise known as the Global Gag Rule — that bans federal funding for international nongovernment organizations that provide abortions. But on Monday, a White House official told the Christian Broadcasting Network that Trump will now "significantly" expand the policy to take even more money from global health groups than previous administrations.
Under Trump, the rule is being rebranded as the Protecting Life in Global Health Assistance policy and will extend to Department of Defense programs, as well as those under the State Department and USAID. The expansion will affect nearly $9 billion in existing foreign aid — 15 times more funding than it has under previous Republican presidents, according to the reproductive-rights group PAI. It will also affect providers that have programs for maternal and child health, HIV/AIDS, infectious diseases, tropical diseases, malaria, tuberculosis, and more.
"Despite the Trump administration's ludicrous rebranding of the policy, the Global Gag Rule is unmistakably deadlier than ever," PAI president and CEO Suzanne Ehlers said in a statement.
Since the Global Gag Rule was implemented by Reagan in 1984, each incoming Democratic president has revoked the policy, and each incoming Republican president then immediately reinstated it. Under Trump, the expanded rule is expected to lead to an even larger increase in maternal and infant deaths, unsafe abortions, and unintended pregnancies worldwide, according to PAI.
As the Guardian notes, the expanded policy won't decrease the amount of foreign aid distributed through existing channels, but it will prevent the funds from helping organizations that provide abortions or even just promote abortion rights. Another piece of great news from the Trump administration during so-called Women's Health Week.