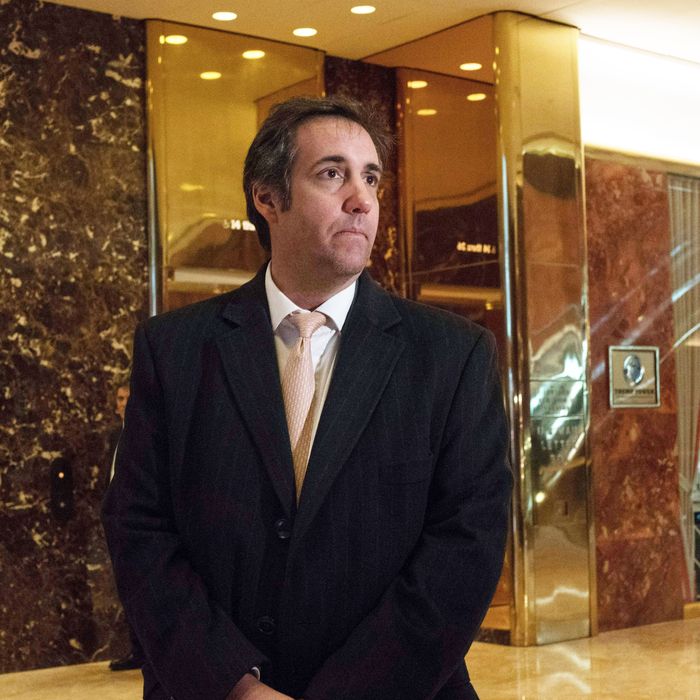 Michael Cohen, Donald Trump's lawyer, tweeted a modeling shot of his daughter.
Photo: BRYAN R. SMITH/AFP/Getty Images
On Sunday night, Donald Trump's lawyer, Michael Cohen, tweeted something nice about his daughter. "So proud of my Ivy League daughter…brains and beauty channeling her Edie Sedgwick," he wrote. Which wouldn't have been remarkable, except that he attached a photo of her sitting on the edge of what appears to be a bed in black tights and a black lace bra.
Many Twitter users thought Cohen tweeting out a lingerie photo of his daughter to 219,000 followers was "creepy." But the real indictment came when he responded to a tweet calling the photo "spank-bank material" with, "Jealous?"
As a refresher, Michael Cohen is a longtime Trump surrogate whose statements are sometimes too polarizing for even his bombastic boss to handle. During the campaign, Trump twice distanced himself from Cohen's remarks — the first time when Cohen told the Daily Beast that legally, "you cannot rape your spouse" (Cohen later apologized), and the second time when Cohen said the women accusing Trump of sexual assault "aren't women he'd be attracted to." (Trump made the same claim himself but later denied it.)
But this time, it's likely Cohen's tweet would be Trump-approved.