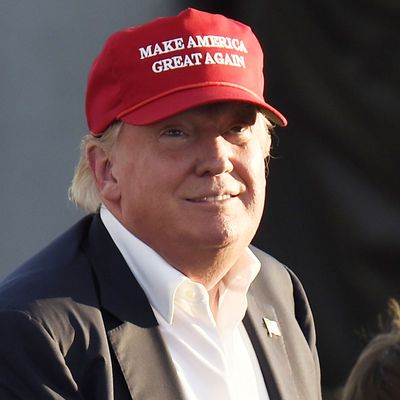 Donald Trump.
Photo: This content is subject to copyright.
Over the past few years, subscription box services have morphed from simple offerings — say, the old-fashioned cheese-of-the-month club — to every possible product one might theoretically want shipped to them on a monthly basis. You can opt for anything from makeup to snacks, wine to sex toys, crafts to crystals. And now the president is getting in on this business model.
The Trump campaign sent out an email on Monday advertising the "Big League Box" (otherwise known as the "Bigly Box"), which offers "a handpicked bundle of exclusive and vintage OFFICIAL Donald J. Trump merchandise delivered to your door every month as a recurring donor." The "Trump Birchbox," as some are calling it, can be yours for the price of, yes, $69 per month.
It's still unclear what will actually be in the boxes, but it sure sounds like a way to simultaneously unload old campaign merch and raise money for reelection. Branded red Solo cups and frozen steaks, anyone?