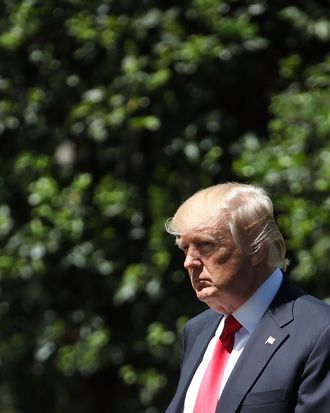 Trump's newest HHS appointment isn't a big believer in birth control.
Photo: Mark Wilson/Getty Images
Following the news Friday that Trump had tapped Charmaine Yoest — the woman whose goal was to take down Roe v. Wade state by state — for a top role in the Department of Health and Human Services, on Monday Politico reported that another anti-abortion activist is set to take on a prominent HHS job: Teresa Manning. Manning, a law professor who's worked for two anti-abortion groups (the National Right to Life Committee and the Family Research Council) will reportedly be named deputy assistant secretary for population affairs.
Per Politico, Manning will be in charge of doling out the $286 million traditionally allotted to the Title X federal-family planning program, which helps provide close to 4 million low-income Americans with basic health and family-planning services. She'll also set policies around teen pregnancy, birth control, and family planning.
But during a 2003 media tour to promote a book she edited about the future of the anti-choice movement, she called family planning "something that occurs between a husband and a wife and God, and it doesn't really involve the federal government," according to the Guardian. And in an interview with Boston's NPR affiliate, Manning (who was Teresa Wagner at the time) suggested she doesn't believe in birth control.
"Its efficacy is very low, especially when you consider over years — which, a lot of contraception health advocates want to start women in their adolescent years, when they're extremely fertile, incidentally, and continue for 10, 20, 30 years," she said. "The prospect that contraception would always prevent the conception of a child is preposterous."
Manning has also claimed that the "link between abortion and breast cancer is undisputed" (there's no evidence linking the two) and has called abortion — a constitutionally protected right — "legalized crime."
In a statement to HuffPost, Planned Parenthood executive vice-president Dawn Laguens called Manning's appointment "a cruel irony," and Congressional Pro-Choice Caucus co-chairs Diana DeGette and Louise Slaughter said they are "deeply concerned about what this development means for four million women and men who rely on Title X."