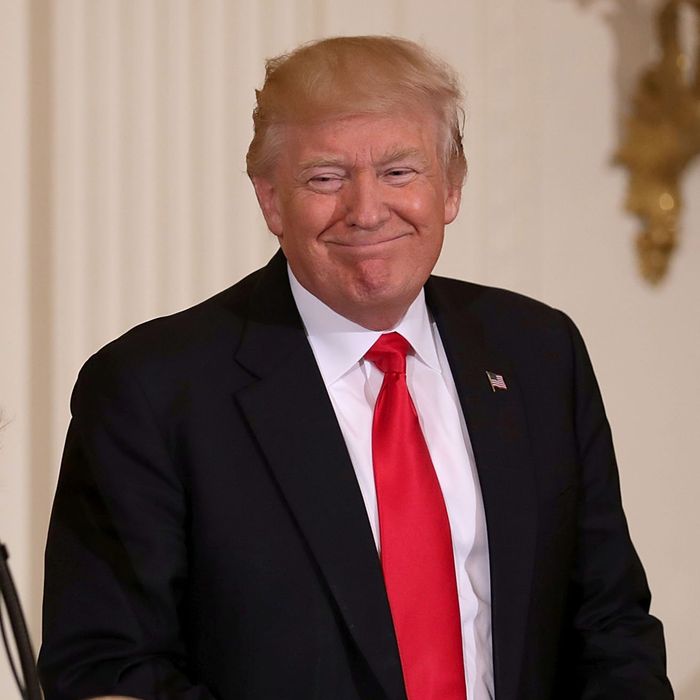 Donald Trump's administration has been disastrous for women's health.
Photo: 2017 Getty Images
President Trump had a busy weekend pondering whether or not to dismantle his entire staff, but he had time to release a statement on Sunday marking the beginning of Women's Health Week. After enumerating the ways in which women today live "longer, healthier lives than their mothers," the statement took a sentence or two to trash the Affordable Care Act:
Ensuring affordable, accessible, and quality healthcare is critical to improving women's health and ensuring that it fits their priorities at any stage of life. In particular, women should have access to quality prenatal, maternal, and newborn care. Under the current healthcare system, however, the lack of choice in health insurance and in healthcare providers, along with skyrocketing premium and out-of-pocket costs, are failing our citizens, our families, and, in particular, our women.
It went on to say that Trump is "committed to working with Congress to help mothers — and fathers — have paid family leave so that childcare is accessible and affordable, and to invest in the comprehensive care that women receive at community health centers. Through these reforms, and my 2018 Presidential Budget, we will enable access to the critical healthcare services women need."
But if the Senate's version of the American Health Care Act is anything like the bill that passed the House of Representatives earlier this month, it has the potential to disproportionately hurt women in several ways: (1) It lets states choose to limit coverage of Obamacare's essential health benefits, which means insurance plans that cover childbirth could become much more expensive; (2) It prevents people from using the tax credits at its center to buy insurance plans that cover abortion, which would make the service unaffordable for most women; (3) It cuts back on the amount of federal funding that flows to Planned Parenthood; (4) It allows states to apply for a waiver that lets insurance companies raise premiums based on patients' medical history, meaning any medical condition a patient has when they purchase a plan — including things like PTSD, postpartum depression, and C-sections — could force them to pay more; (5) It cuts funding for Medicaid, which covers about 40 percent of pregnancies.
So yes, "ensuring affordable, accessible, and quality healthcare is critical to improving women's health," but that's not what will happen if the current version of the AHCA becomes law.