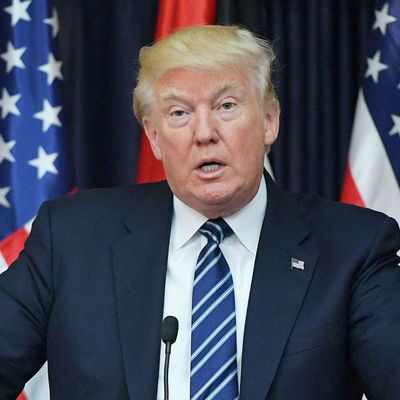 Donald Trump has Kondoed his apps, apparently.
Photo: MANDEL NGAN/AFP/Getty Images
President Trump changes up his mobile device almost as frequently as his staff — he originally used both an iPhone and an Android, but after he decided to boycott Apple products in February 2016, he switched to Android only. When he took office, however, Congress took issue with his Android phone's lax security, so in March of this year he switched back to the iPhone.
In theory, the president could load anything onto his secure iPhone. But according to Axios, he only has one app: Twitter. And that single app is reportedly a headache for his staff, which "does everything it can to load up his schedule to keep him from getting worked up watching cable coverage, which often precipitates his tweets."
Kudos to the president for Kondo-ing and all, but in the end, Angry Birds might be a safer choice.