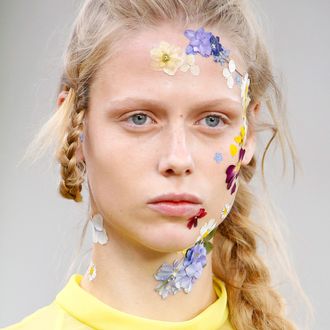 A Preen beauty look created by Val Garland.
Photo: 2016 Estrop/Getty Images
Drugstore makeup is about to get a whole lot better. Vogue UK reports that legendary makeup artist Val Garland will be L'Oréal Paris's first global makeup director, working on product innovation and makeup artistry. This is L'Oréal Paris's second, recent big move into runway beauty following the brand's Balmain-collaboration announcement. Garland has had a storied career in editorial and runway beauty, creating many of the radical beauty looks seen at Alexander McQueen and Vivienne Westwood shows. She's glued flowers onto the face for Preen, has dunked models' faces straight into glitter for Westwood, coined the term "just-snogged" lips, and even made penis drawings part of a beauty look (why not?).
Garland said, "I've always said we don't need to spend a lot of money to get brilliant, innovative, superior quality makeup products and L'Oréal Paris proves that. I'm looking forward to the challenge of taking on the creative makeup direction at this global brand." Get ready for something special (and inexpensive) soon.