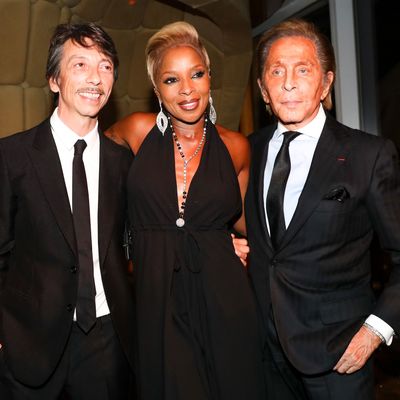 Pierpaolo Piccioli, Mary J. Blige, Valentino Garavani.
Photo: Neil Rasmus/BFA.com/Neil Rasmus/BFA.com
Valentino delivered a love letter to New York City yesterday, in the form of a 2018 resort collection designed by creative director Pierpaolo Piccioli. The Italian house celebrated in true New York fashion: gathering beautiful people in a beautiful room (the top of the Standard hotel), listening to an impromptu performance by Mary J. Blige, and drinking prosecco distributed by tuxedo-clad waiters.
Though his first cruise collection for the brand delivered plenty of boldly feminine options (Lilac leather! Pink dresses! Pinata fringe!), Piccioli says next season, he wants to see more tracksuits. Yup: tracksuits. "I believe that sport is an opportunity," he told the Cut. "I think sport is the new daywear."
But before you reach for your 2008 Juicy tracksuit or recently purchased Vetements x Juicy outfit, know that Valentino's riff on the tracksuit is a little different. One runway look was wide-legged, paired with T-straps, white socks, and a quilted bag — a "ladies who SoulCycle at lunch" spin.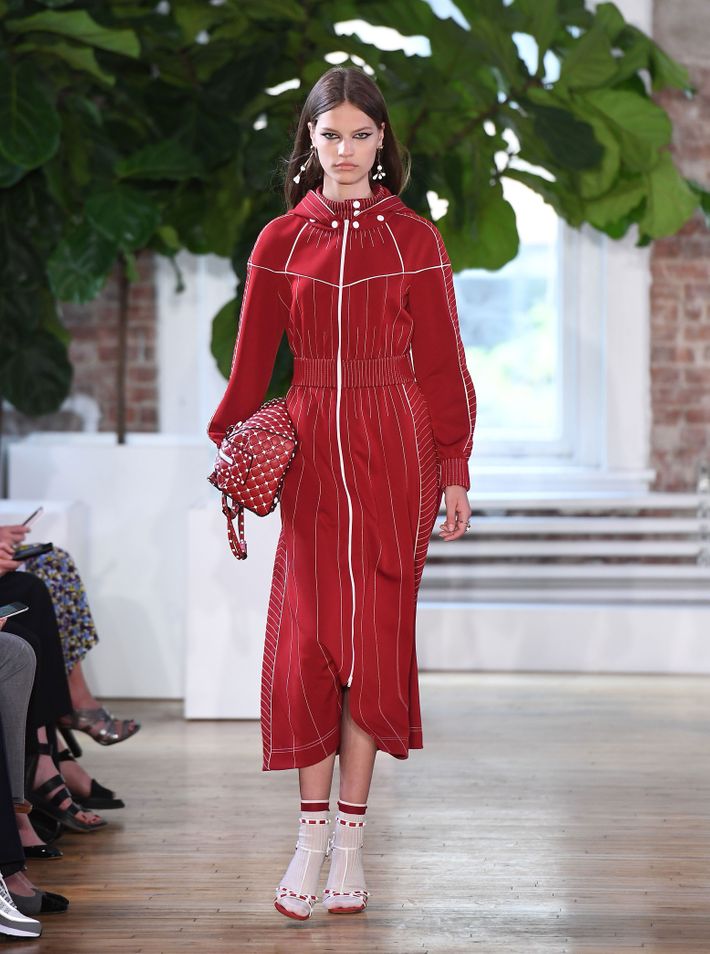 Piccioli celebrated the evening by DJing and dancing with Nicky Hilton, Olivia Palermo, and Valentino himself. On the Standard rooftop, Piccioli reminisced on the inspiration for the collection: "I wanted to go into fashion mixing as a DJ: mixing the sport, the street, the heritage of the house, the different and multicultural references as a DJ does. Like one sound made by many sounds." A Valentino tracksuit certainly is a new sound.