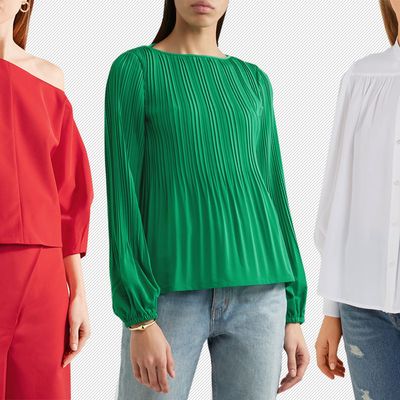 Figuring out what to wear to work shouldn't be a bore. To make your weekdays easier, welcome to Business Casual. Every Wednesday, we'll highlight the best office-appropriate clothes, whether it's for the job you have or the one you want.
So you have a big interview and you're freaking out. You already studied up on the company and your résumé has been proofread so many times, you can recite it from memory. But one look at your closet and whatever confidence you had went to shambles. Nothing feels quite right. Before you go crazy and buy an entire new outfit, take a breath. Unless your go-to blazer or favorite skirt is in complete disrepair, all you need is a new blouse to make everything feel fresh again. Whether you require a classic silk shirt worn under a suit, or you're looking for something that'll adequately demonstrate your creativity, scroll ahead for 11 blouses that'll boost your confidence on the big day.
This is a creative twist on a standard white button-up. Wear it untucked over slim back pants and add a blazer for a relaxed take on a suit.
Original Price: $295
Big flowers against a dark background feel more serious and down to business than your standard pretty floral top.
Between the beautiful shade of red and the luxurious luster of the silk, this striking top says you're not afraid to stand out and take risks.
Original Price: $181
A deep-navy top is a smart way to spice up a gray suit, without going too crazy.
Here's another option, if you're headed to an interview for a creative gig: a bright-green, pleated blouse that nods to the '80s big-shoulder trend, without looking costumey.
If green isn't your color, this is another creative interview-friendly top. Just add a camisole under it — the deep V is a touch too revealing, no matter how laid-back the environment may be.
Original Price: $228
With its high neck and soft peach color, it's conservative enough for even the most traditional bank or law-firm roles.
Original Price: $675
Between the voluminous shape, flash of shoulder, and bright-red color, it's a lot to take in, so keep it simple on the bottom: a black skirt or trousers will suffice.
Original Price: $375
Billowy sleeves give this white blouse a little extra kick, so it doesn't feel like every other button-up in your closet.
Original Price: $255
Another way to wear a non-boring white shirt is to look for one with tons of texture, like this shredded-cotton-and-crochet mix.
Original Price: $360
If you buy something through our links, New York may earn an affiliate commission.