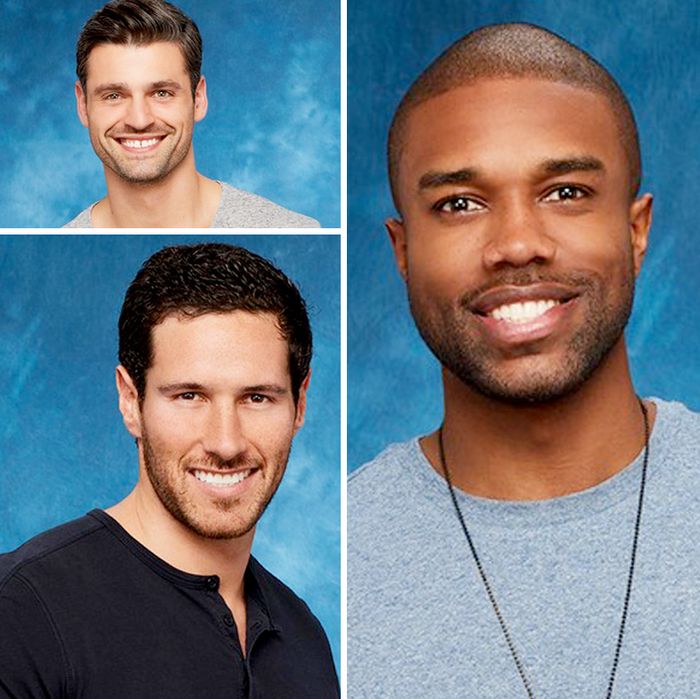 Future stars of social media.
Photo: Courtesy of ABC
Last night on the second episode of The Bachelorette, viewers became better acquainted with the handsome, soon-to-be-Instagram-famous men vying for Rachel's attention. There's Bryan, the front-runner who won the first-impression rose, and Demario, the guy who is not here for the right reasons, and Lucas, the character who keeps saying, "Whaboom." Which one of these eligible bachelors will win Rachel's heart in the end? Who cares, really? The more important question: Who will walk away with the most social-media endorsement deals?
In the Bachelor franchise's 15-year history, only a few couples have found everlasting love, but plenty of the show's stars and contestants have achieved something much better: social-media fame. The 20 guys left in the Bachelorette mansion this season are gaining thousands of new Instagram followers each week, and once they leave the show, they will be able to sell everything from teeth-whitening trays to protein shakes.
The post-Bachelor economy is so well-established at this point that one talent manager and publicist works almost exclusively with former contestants from the show. Lindsay Glickstein, the founder of Starlicity PR, currently represents some of the bigger names in Bachelor Nation, like Caila Quinn (from Ben's season of The Bachelor and Bachelor in Paradise), Desiree and Chris Siegfried (who met on Desiree's season of The Bachelorette), and Sharleen Joynt (who famously rebuffed Bachelor Juan Pablo Galavis). She handles every aspect of these stars' "influencer" careers: their TV appearances, social media #ads, and personal branding. Last week, I chatted with Glickstein about the influencer potential of Bachelorette Rachel's group of guys and what she looks for in a new client.
"I'm basically looking for the people that I feel either have a look or a niche or something that could take them further," Glickstein said. Quinn, for example, had an interest in beauty, so when she left The Bachelor last year, she parlayed her 340,000 new Instagram followers into social-media partnerships with brands like Molton Brown. She's been successful in other categories, too. "Caila has had a bunch of opportunities come to her through just the posts that she did," Glickstein explained. "So she posts about food here and there and all of the sudden she's getting auditions for food shows. American Airlines contacted her to do a food event because they were launching a new food campaign within JFK airport."
So who's the next face of an airline-food campaign? Here are six Bachelorette bros with social-media-star potential.
The Model Who Already Had 6,000 Followers
In the world of The Bachelorette, contestants who have previous acting or modeling experience are typically viewed with suspicion (he's just here for fame, etc). For Glickstein's purposes, however, these guys are perfect clients: They most likely already have some sort of online following. On this season, the standout is Peter Kraus, a 31-year-old model and personal trainer who took Rachel on a "one-on-one" date on last night's episode. He came into the show with a respectable 6,000 followers, and he has since ratcheted that up to over 33,000.
The Guys With Highly Marketable Interests
As Glickstein said, it's important for aspiring social-media influencers to have a niche. On this season, there are three guys who could parlay their particular interests into more lucrative opportunities: Diggy Moreland, who is obsessed with fashion, Jack Stone, who is an attorney, and Adam Gottschalk, who is a real-estate agent. According to Glickstein, Stone could become a legal correspondent, Gottschalk could land an HGTV show, and Moreland could become a style influencer.
The "Villain" Who Could Still Find Fame
On last night's episode, Rachel instructed contestant Demario Jackson to "get the fuck out" after it was revealed that he had a girlfriend when he came on the show. According to the previews for next week, however, the producers are giving him at least one more episode to win Rachel (and the American public) back. His current "villain" status might not even hinder his future success, Glickstein said. "If you look at someone like Corinne [Olympios, from the last season of The Bachelor]," she explained, "she didn't have the most positive image on the show, [but] she went out there, and look how many followers she has and all the positive things she's doing." Other recent stars like Chad Johnson, from Joelle's season of The Bachelorette, and Olivia Caridi, from Ben's season on The Bachelor, have gained thousands of followers from their villainous appearances on the show.
The One Who Could Actually End Up With Rachel
Glickstein said she took particular notice of 37-year-old chiropractor Bryan Abasolo, because he won the first impression rose and was the first to make out with Rachel on camera. "I thought that their chemistry was obviously very strong," she said. This means that Abasolo is a solid contender for the final rose, and if there's one thing Glickstein knows, it's that Bachelor couples are more marketable than singles. "People want to see a success story," she explained. "So [a Bachelor couple] will get a ton of followers right out of the gate." Couples like Glickstein's clients Desiree and Chris Siegfried have promoted products together throughout their relationship. "As [a couple's] natural life progression happens and they get married, they have a baby, they have all of that, then you're getting into other niches in the family space," she explained. It turns out that the most lucrative post-Bachelorette job is "devoted husband."