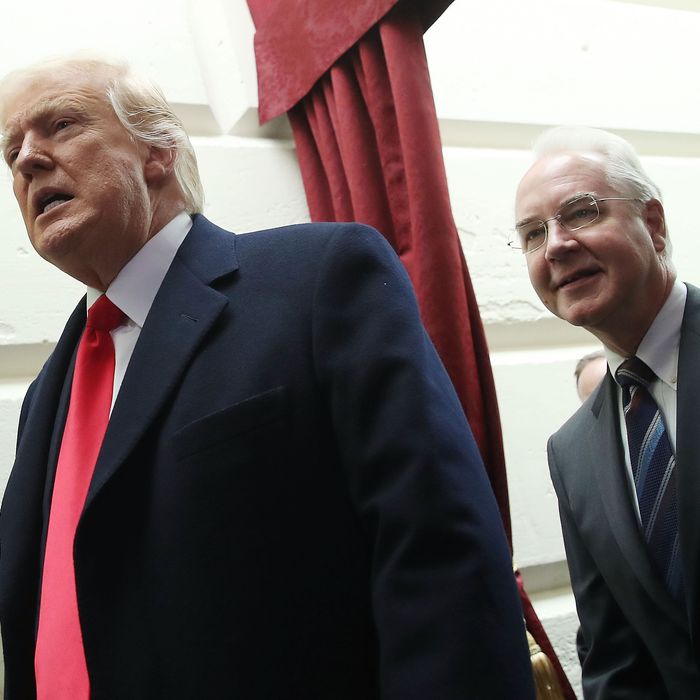 Health and Human Services Secretary Tom Price was all for reexamining the preventative-services mandate.
Photo: Mark Wilson/Getty Images
On Tuesday, the New York Times reported that Trump's administration is following through with its threat to rethink the Obamacare mandate requiring employers to cover birth control in health-insurance plans. Federal officials have reportedly drafted a rule to abolish that requirement, which was one of the most hotly contested provisions of the ACA.
The news comes after President Trump signed a "religious liberty" order earlier this month, which instructed three departments to consider amending their regulations to "address conscience-based objections to the preventative-care mandate."
"With this executive order, we are ending the attacks on your religious liberty," Trump said at the time. Earlier, in October, he'd promised Roman Catholic organizations that "religious orders like the Little Sisters of Poor [would] not [be] bullied by the federal government because of their religious beliefs."
Which is all well and good, except that if the new rule is implemented, some of the more than 50 million women it has reportedly helped could lose access to preventative services. In a letter to Mick Mulvaney, the White House budget director, Democratic senators pointed out that "women saved more than $1.4 billion in out-of-pocket costs for birth control in 2013 alone," and warned that making exceptions for certain employers could "undermine access to affordable preventive services, including contraception, for women."
The policy change could reportedly take effect as soon as it's published in the Federal Register. But if it does, women's rights groups are preparing to object. "Whatever the rule is, it will allow an employer's religious beliefs to keep birth control away from women," said Gretchen Borchelt, a vice-president of the National Women's Law Center. She added that her office is preparing a lawsuit to challenge it.