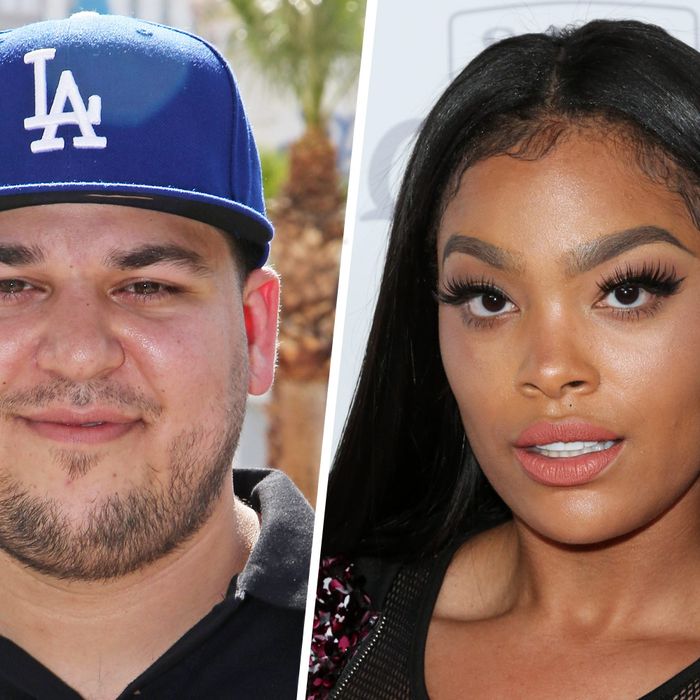 Rob Kardashian and Mehgan James.
Photo: Getty Images
According to reports in Us Weekly and In Touch, reluctant Keeping Up With the Kardashians star Rob Kardashian has moved on from his intensely dramatic relationship with the mother of his child, Blac Chyna. For the last few months, he has apparently been dating an official member of the Bad Girls Club: Mehgan James. A source told In Touch that the Kardashian sisters are "very upset" about this new relationship, given the fact that James was on a reality show all about fighting and honestly like, that's the last thing Rob needs right now.
"Rob's been seeing Mehgan James for almost three months, and most of the Kardashians are very upset about it because Mehgan is known for being out of control and volatile," the source said. "The Kardashians want Rob to find a woman who is kind and calm."
A different source presented a more hopeful picture to Us Weekly, however. James has "matured" since her days on Bad Girls Club, the source said, and she "will be a good fixture in Rob's life should this continue." Neither James nor any of the Kardashians have commented on the reported relationship.
James has appeared on several reality shows including Basketball Wives LA and 50 Cent: The Money and the Power, but she is perhaps most famous for fighting two women at once on Bad Girls Club. She is not currently on television but hinted to her Twitter followers in December that she landed a show on the Kardashians' home network, E!.
She also posted a photo of Rob Kardashian's sock line, Arthur George, two weeks ago.
All of this may be upsetting to the rest of the Kardashian krew, but they can find solace in the fact that James likes to promote weight-loss tea on Instagram just as much as them.