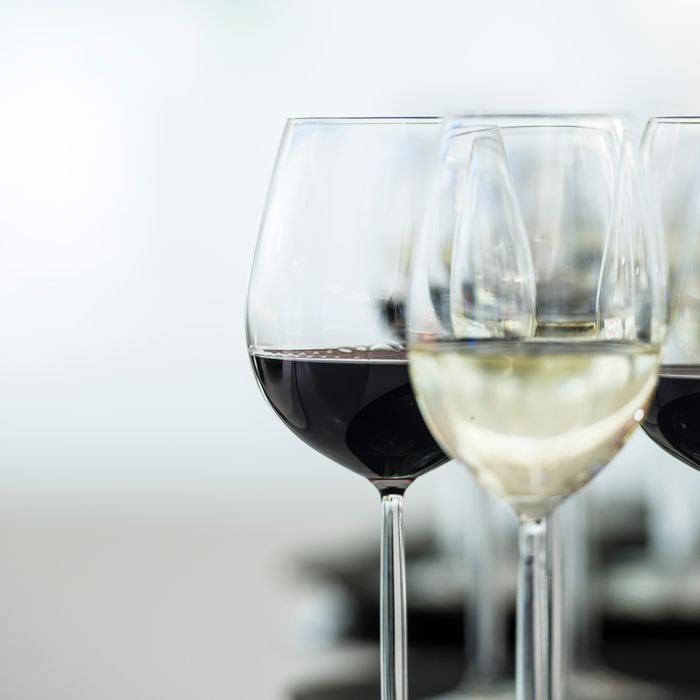 A glass of wine a day is linked to increased breast cancer risk.
Photo: AM-C/Getty Images/iStockphoto
Although many of us routinely indulge in a glass (or two or three) of wine at the end of the day, a new study suggests that our glass-a-day habit might not be healthy: Having a glass of wine (or another alcoholic drink) each day has been found to increase a person's breast cancer risk. But luckily, it appears vigorous exercise may help counteract that risk.
As the Washington Post reports, a new review from the American Institute for Cancer Research and the World Cancer Research Fund analyzed 119 studies that used data from 12 million women worldwide. While a standard drink has 14 grams of alcohol, the study found that just 10 grams of alcohol per day – which is the equivalent of one small glass of wine, beer or other alcohol – is linked to a heightened breast cancer risk of 5 percent for pre-menopausal women and 9 percent for post-menopausal women.
Per the Post:
"This suggests there is no level of alcohol use that is completely safe in terms of breast cancer," said Anne McTiernan, a cancer-prevention researcher at Fred Hutchinson Cancer Research Center in Seattle and one of the report's lead authors. "If a woman is drinking, it would be better if she kept it to a lower amount."
However, the study was also the first ever to link vigorous exercise with reduced breast cancer risk. According to the Post, the review found that active pre-menopausal women have a 17 percent decreased risk of developing malignant breast cancer, compared to a 10 percent reduced risk in post-menopausal active women. There are factors that contribute to a woman's breast cancer's risk that she can't control, including a family history of the disease, but as McTiernan told the Post, "having a physically active lifestyle, maintaining a healthy weight throughout life and limiting alcohol — these are all steps women can take to lower their risk."
The researchers didn't calculate the degree to which exercise might decrease the risk of breast cancer in a woman who drinks regularly. Yet, they noted that alcohol increases estrogen in the body, which is known to increase a woman's breast cancer risk, while exercise reduces estrogen. McTiernan concluded, "If women lose just 10 percent of their weight, it's linked to reduced blood estrogen, inflammation" and other risk factors.