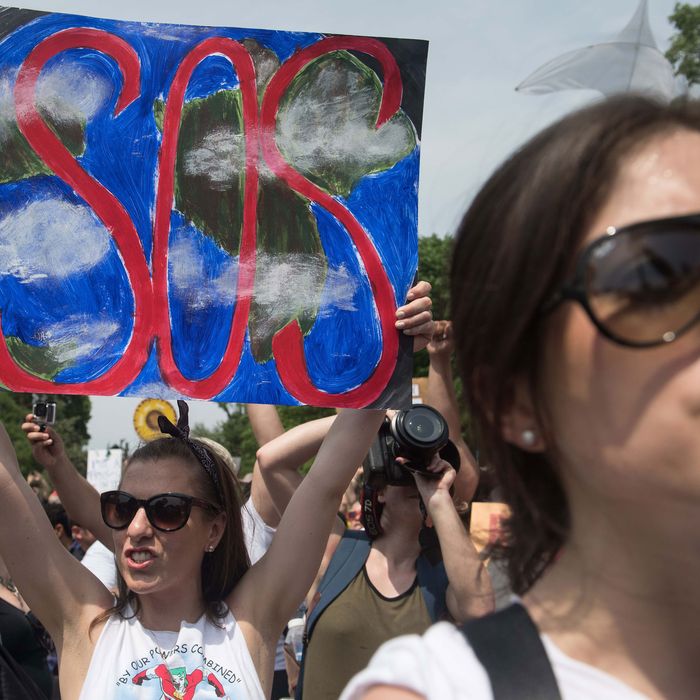 Women hold signs and chant in front of the White House during the People's Climate March in Washington, D.C.
Photo: Nicholas Kamm/AFP/Getty Images
It's already pretty apparent that women are leading the movement against the Trump administration, but a new poll from the Pew Research Center offers some insight as to why. According to the poll, which surveyed more than 1,000 people between April 5 and 11, men are almost twice as likely as women to have "a lot of confidence" in the future of the country today.
Fifty-three percent of men said they were very confident about the future of the U.S., while just 29 percent of women said the same. That's a 24-point gender gap, and it's markedly different from October 2015, when men and women polled about equal — at the time, 43 percent of women said they were very confident about the country's future, while 47 percent of men said the same.
The survey was conducted beginning April 5, which happened to be the day that President Trump defended Bill O'Reilly in the face of numerous sexual-harassment allegations. But Trump's administration had shown its colors well before April; the week the president took office, he made moves to restrict women's health both at home and abroad. And then, of course, there's the whole pussy-grabbing thing — weird that women don't feel great about the future of the country under that guy.