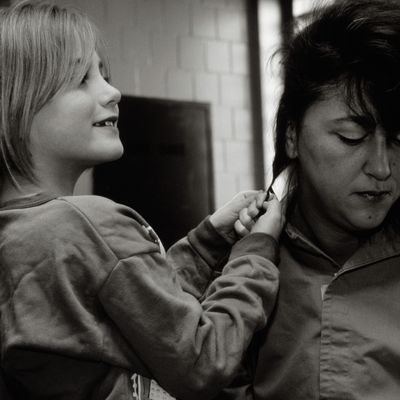 An incarcerated mom with her child at Rikers.
Photo: Viviane Moos/Corbis via Getty Images
Rikers Island, one of the largest correctional facilities in the world, floats in the East River between the Bronx and LaGuardia Airport, where it houses around 10,000 inmates on any given day. For viewers of Law and Order, "Rikers" is synonymous with "worst place someone can be." For criminal-justice advocates, it's a microcosm of everything wrong with the American prison system. For Mayor de Blasio, it's an opportunity for positive press: He declared in March that the city plans to close the embattled facility in ten years.
The news from de Blasio's office is one of the many headlines Rikers has produced so far this year, many of which center on the facility's mistreatment of women. In April, inmates spoke out about the lack of access to menstrual care, depicting one scene in which a guard threw tampons in the air to watch inmates scramble over each other to grab them, and just last week the city settled with two former inmates who said they were repeatedly raped by the same corrections officer, describing a "pervasive culture of rape and other sexual abuse." Even women visiting the facility say they've been mistreated. In January, several women visiting friends and family alleged they were molested during entry searches.
To find out more about what life is like on Rikers for women and how far back these issues go, we spoke to four former inmates about their experiences inside. Here, they describe the fights, the drugs, and the routine debasement they saw during their time behind bars.
"I wasn't letting anyone mess with me."
Rikers challenged me before I even stepped in the door. I got threatened on the bus on the way in. Those first few weeks, inmates are asking if you're in a gang, if you like girls. They want to find out what you're about, and that's always going to turn into a fight. They are testing you.
I had a fight in my first two weeks, and I went into solitary for 30 days. When I got out, all these girls came up to me and were like, "Where you been, who you with?" I knew they were going to jump me but I wasn't afraid. I said, "I'll beat up two of y'all." I knew they were Blood, and I wasn't in a gang but I knew the lingo. From then on I was Blood.
I wasn't letting anyone mess with me. I knew with my voice and my attitude that I could be scary, too. The Bloods took me in, but it was just a façade to protect myself. I had to go through the whole bit. I braided my hair up. Of course, now I had to worry about getting sliced at lunch. You were like, who is it going to be today?
There were a lot of older people there. When I was a kid, you'd be respectful to older people, but in Rikers I saw them get violated. The younger ones would make them wash our clothes, or would steal their commissary. It was so degrading. Why would you do that to an adult? So I started trying to protect the older ladies, the sickly ones. They weren't as tough as I was.
When I got out, I had that jail mentality for a while: not trusting anybody, thinking somebody's going to steal your stuff. I came back to New York and entered a shelter.
You can't escape the fact that there are some people who do bad things. But there are also things that keep us down in the community. For most of us, it's go directly to jail, don't pass go, don't collect $200. — Tyisha Jackson, 38, incarcerated from 1999–2000
"My family kept saying, 'Just plead guilty so you can come home.'"
I was arrested for being a passenger in a car that had some stolen items inside and remanded to Rikers. I was in general population, I did some time in solitary confinement — I was basically in every unit you could think of.
My family kept pressuring me, "Just plead guilty so you can come home." My godmother was watching one of my kids, and a family friend watched the other. Finally they got me a new lawyer, and I pleaded guilty and was sentenced to three to seven years. All for sitting in a car, being a passenger in someone else's vehicle.
I was denied access to provide breast milk to my 11-month-old child who at the time was breastfeeding. I saw one of my two children twice in the 15 months I spent on Rikers and no visits thereafter until my release in 2017. I almost lost custody of my daughter.
I worked in the medical unit, and in the nursery. While I was in the nursery, someone was crazy and tried to attack me. Any time you're in an altercation, you get placed in solitary. I was in there for three months. You spend the time just trying to keep your sanity. I read books and tried to sleep.
I think there are so many fights because people have built-up frustration. If you have 50 people in one room, and then one person gets angry, what happens? That's the main thing, it's overcrowded. Especially when you're dealing with different people from every type of borough. Being on Rikers, it's a very stressful situation. Even going to court, you wouldn't believe the amount of stress that goes into a court date. You have all of these expectations, the hope that you might go home, and then you don't go home. You go back to this place. —Priscilla Gardipee-Lopez, 36, incarcerated from 2014–2015.
"I can't go back there! Please don't make me go back!"
I graduated from Rowan University in 1981 with a bachelor's degree in criminal law and justice. I worked as a paralegal in Manhattan for years until I stole from my employer. My daughter had just been born and we were in dire financial straits. I just whited-out the wire information of an account at work and I wrote in my numbers instead. I was arrested during a traffic stop. My daughter was in her car seat screaming and crying. They cuffed me to a bench so I could hold her with one arm. Then I was remanded to Rikers.
Any jail scared the shit out of me, but I had heard the worst things about Rikers. I don't look like someone you'd expect to be incarcerated. Some girls thought I must be a snitch, or planted there, and so I was sexually assaulted by several of them in the shower during my first two weeks. They wanted to teach me a lesson, I guess.
I begged my attorney every time I went to court, screaming and crying. "I can't go back there! Please don't make me go back!" I told them I would kill myself if I had to go back to Rikers, so they put me in the mental-health unit, which is even worse than general population. It was like a gymnasium, and you're there with maybe 60 other women. Your movements are restricted. The doctors and psychologists come to you, because you can't move. You're going to the bathroom and someone is sitting on the toilet next to you.
I was minimum security, but you're mixed in with people who have committed murder or child abuse. There was a group of us there who were there for less violent crimes. They stole from their employer, or they stole from a organization, like the PTA or Girl Scouts or something like that. At the time, we could wear whatever clothes we had on when we arrived, and I remember seeing one woman in Tory Burch loafers. I went over and I was like, "You're going to want to send those home."
I was ultimately sentenced to a couple of years after that, spending time upstate. I got out April 1, 2014. I do have PTSD. I'm not going to deny it. I still have nightmares. Certain noises bother me. Sometimes being in a crowd will bother me. There's no one who's ever been incarcerated who's not traumatized by that experience.— Kathy Morse, 57, incarcerated from 2006–2007
"These were women that nobody cared about."
I was arrested in 1985 and taken to Rikers and put under protective custody. Protective custody is what they call solitary confinement. I was only let out to shower. I was told that it was because of how I looked, but I have no idea. I had never been arrested before, never been in trouble before. I didn't know anything about the system. They told me to do something, I did it.
In my head, I was really fighting with myself. I was having nightmares. I signed up to see a counselor and I told her, "I can't handle this. I can't sleep." So they brought me medication and I just took it. My tongue swelled up and I couldn't hold my head up, couldn't talk. I couldn't stand up in court, I was so messed up.
There's no separation of age so I'd chat with women who were the older and younger versions of me. These were women that nobody cared about. They were in the system because it was the only place they could get fed, the only place where they had clothes, where they had a moment to breathe. I read about de Blasio wanting to close Rikers in ten years, turn it into a park, plant some trees. How about you turn the lights on in Brownsville? How about you pave the streets? Because that's what's going to help Rikers. People from Brownsville wind up in Rikers because there is nothing else for them. Do you think I woke up and said, "I'm going to go get involved in crime so I can go to prison for the rest of my life?" It just doesn't go like that.
I went back not too long ago, for the opening of a new library in the women's unit. I was invited to that and I spoke. I actually saw some people I knew, and they were like, "Oh my god, Donna! You're coming back on the other side!" The library is where they can go and breathe and learn, evolve, learn about the things they've done. That felt good, to be a part of something so positive in such a horrible place. — Donna Hylton, 52, incarcerated from 1985–1986