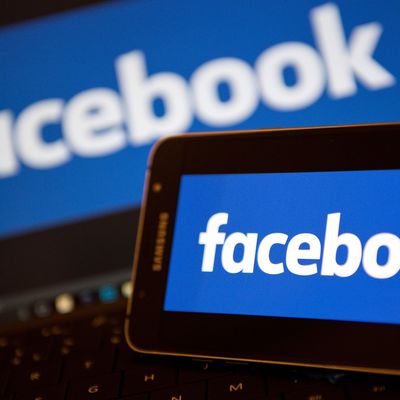 Facebook censored Women on Web.
Photo: Justin Tallis/AFP/Getty Images
The Facebook page of Women on Web, an organization that helps women across the world obtain abortion pills, was reportedly deleted over "the promotion or encouragement of drug use," the Guardian reports, marking the second time that the social network has reportedly censored the group's social-media presence. However, the Telegraph notes that the page was reinstated hours later, with Facebook saying it had been disabled "in error."
The Amsterdam-based organization connects women in countries where abortion access is restricted to doctors who can help provide them with abortion pills. Women on Web is the sister organization of Women on Waves, a group that provides reproductive-health services (including abortions) on a ship that sails in international waters. Per the Guardian:
Women on Waves announced that the page had been "unpublished" on its own Facebook account, writing: "Women on Web provides life-saving information to thousands of women worldwide. Its Facebook page publishes news, scientific information and the protocols of the World Health Organization and Women on Web has answered over half a million emails with women who needed scientific, accurate information essential for their health and life."
The group added that it expected Facebook to "[undo] this action soon enough, as access to information is a human right." Hours later, Facebook apologized to the group and said it had been blocked "in error," according to the Telegraph.
"Facebook is a place for people and organizations to campaign for the things that matter to them," Facebook said in a statement. "Women on Web is an example of that. In this instance the account was disabled in error but has now been restored. We apologize for this and for any inconvenience caused."
The social network previously censored Women on Web in January 2012, when it deleted a profile picture of Dr. Rebecca Gomperts, the group's founder and director. The Guardian notes that the image included instructions for how to induce abortion using the drug misoprostol, and Gomperts was reportedly locked out of her account for two days for reposting the image. Facebook eventually apologized, and both her account and the image were reinstated shortly thereafter.
This post has been updated to show that the page was reinstated.