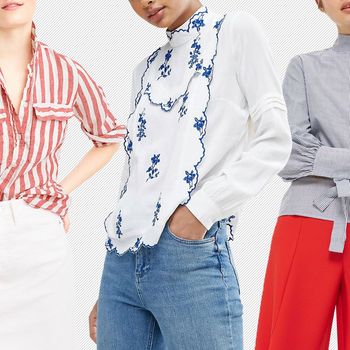 Figuring out what to wear to work every morning can be a chore. Sure, there are the days when you're responsible, planning your outfit the night before and getting out the door quickly. More likely it's this scenario: You're staring into an abyss and trying on multiple options before settling on something that doesn't make you feel 100 percent confident. Streamlining your closet is one way to make things easier, but some days you just can't stomach another white button-up. If that sounds familiar, an affordable, fun, office-appropriate blouse is just the quick fix you need. From on-trend bell sleeves to expensive-looking silk shirts, here are nine options under $100 to freshen up your work wardrobe.
The trick to choosing a $35 faux-silk blouse that looks way more expensive? Find neutral one that isn't too shiny, like this one.
Big, bell sleeves are trending at the moment but if those get in the way of your typing, these tie sleeves have the same dramatic effect.
Not into a tied cuff? These are baby bell sleeves that are just as unobtrusive.
The delicate embroidery makes this blouse look like a rare vintage find unearthed from a hermetically sealed chest.
Yellow was popular on the runways but translating it to the office means you want to skip the eye-searing brights for a muted, simple shirt like this one.
The v-neck shows off just the right amount of clavicle without dipping too far down your chest.
This striped shirt is brighter in person so keep it simple with jeans or black pants.
COS is the best place to go for affordable button-ups with a twist, like this shirt with its knotted overlay.
If you buy something through our links, New York may earn an affiliate commission.