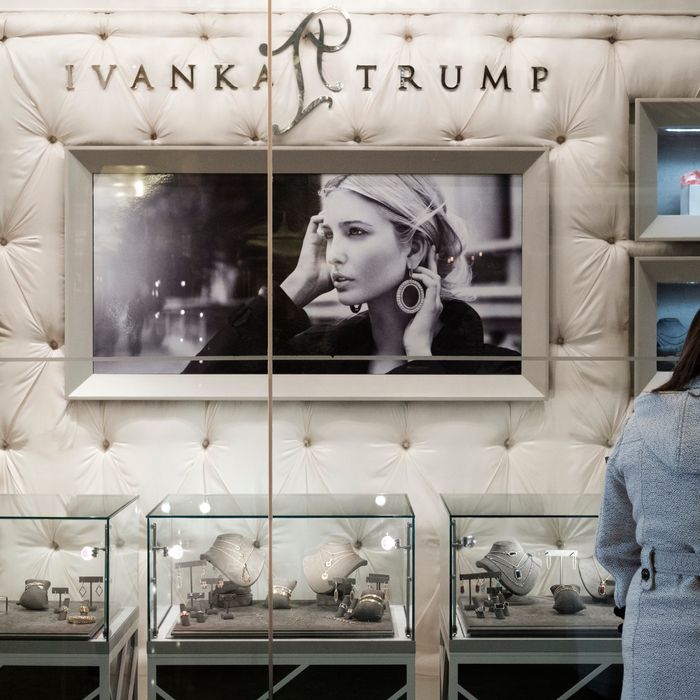 Ivanka Trump storefront.
Photo: Drew Angerer/Getty Images
Three men who were investigating the working conditions of a factory that produces shoes for Ivanka Trump's brand have been arrested or are missing, according to China Labor Watch.
China Labor Watch works to expose poor conditions in Chinese factories. The three men had uncovered that the Huajian Group factories had been paying a base salary below minimum wage, using excessive overtime, and misusing student labor. The investigation, according to what China Labor Watch's executive director Li Qiang told the Associated Press, has attracted a never-before-seen level of scrutiny from "China's state security apparatus."
Hua Haifeng, one of the men working on the probe, was accused of illegal surveillance, according to his wife. The police contacted his wife on Tuesday saying she would not be able to speak with or receive money from her husband. The other two investigators, Li Zhao and Su Heng, have not been heard from since Monday.
They were investigating Huajian Group factories in two southern Chinese cities. The company reportedly produces 10,000 to 20,000 pairs of Ivanka Trump shoes a year, as well as orders for Nine West and Marc Fisher.
They had faced "unprecedented" scrutiny from the Chinese government before — two were blocked from leaving mainland China in April and May. Li told the AP that police had asked Hua to stop investigating Huajian factories.
The Ivanka Trump brand is facing calls to sever its relationship with the factory, but so far has not commented on the issue. A spokesperson for Marc Fisher, which manufactures Nine West and Ivanka Trump, told AP, "We were unaware of the allegations and will look into them immediately."