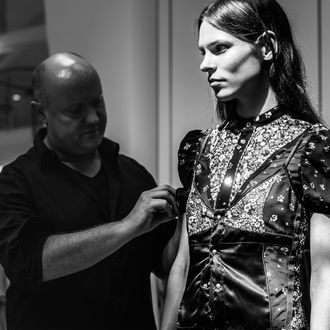 Designer Andreas Melbostad fitting a model.
Photo: Courtesy of Diesel Black Gold
When you think of Diesel Black Gold, you think of denim, closely followed by leather. But designer Andreas Melbostad said they're branching out into a lighter look than their signature biker chic for their first combined men's and women's show, which walks tomorrow morning at Milan Men's Fashion Week.
"I think [combining the two] is a very true vision for us," Melbostad said. "The women's collection has a lot of pieces that are soft and feminine. The men's collection has pieces that are very masculine. Putting the two together will show a range. It's about individual choices, how people approach the collection, and how people dress."
The byword for the show itself is "techno-grunge." Melbostad said he was inspired by '90s streetwear and athleisure. "We are very influenced by the city and seeing how people wear what they wear to the gym through the day," Melbostad said. "So I wanted to mix those clothes together with our more iconic coats." But the brand's moto spirit isn't going anywhere: "There's always elements of denim, always a biker element, a leather element."