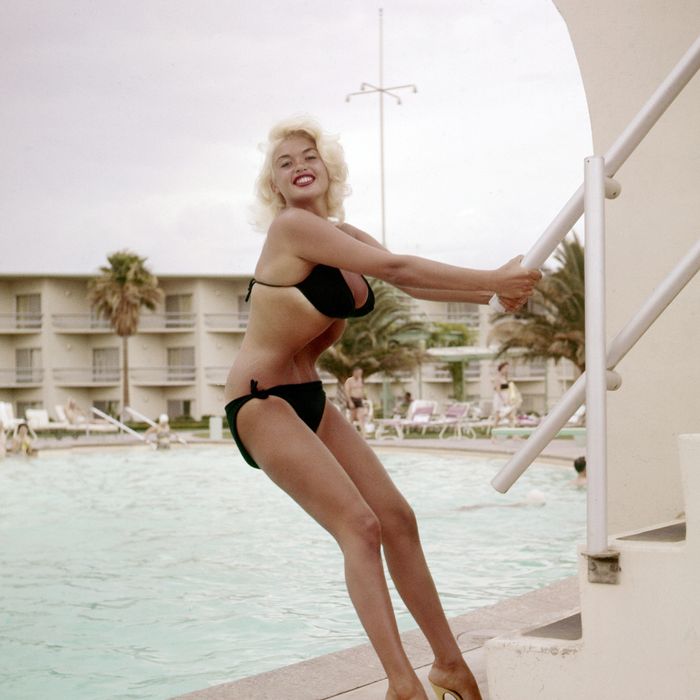 Finding the right bathing suit for big boobs can be tough.
Photo: Silver Screen Collection/Getty Images
Splashing around in a nice and refreshing pool? Fun. Shopping for a new bathing suit? Not so much. To make it painless, the Cut is devoting this week to finding you the perfect swimsuit.
You'd never know it from my (incredibly) pale complexion, but I'm actually a bit of a beach bum. As soon as the temperature hits 80 degrees, you can find me at one of the many New York beaches, taking in the sun and hanging out with my friends drinking cheap beer and binging on chips and salsa. But of course, my beach days also entail a lot of uncomfortable adjusting since I'm usually sporting an ill-fitted bikini or one-piece. I wear a 32F (or sometimes 32FF) bra, which means I'm narrow but my boobs are pretty big. So I require more support than your average swimsuit provides — but because I also wear a size-six dress, I still need suits that are fairly small.
After finally finding sports bras that work for me, I was determined to test out as many bathing suits as possible before summer kicks off. Here, my top eight bathing-suit picks for women with large breasts.
The One I'd Wear on Vacation
When I go somewhere tropical (which is infrequently), I find myself wishing I had the bikini equivalent of a dad's Hawaiian shirt to get into the vacation vibe, like this suit. The material's thin, which is great when you're somewhere hot, but it's still incredibly supportive as it comes with underwire and sturdy straps. I tested this out at the beach, and it was wonderful. The bottom is high-waisted without being too covered up. Wearing this suit, my boobs were secure and I felt confident and vacation-ready all at the same time. The top also felt durable enough to double as a bra on laundry day, which is a major win in my opinion.
The Classic One-Piece That Keeps Your Boobs in Place
I didn't expect this J.Crew one-piece to work for me at first, since it doesn't come with underwire — an essential for my boobs. But I ended up really loving it. It's has a "pin-up from the '50s" look and the ruched fabric is incredibly flattering. And what this bathing suit lacks in underwire, it makes up for in a shelf bra and removable padding. It doesn't quite hold my boobs up as high as something with an underwire would, but it still keeps them well supported. On top of that, it comes with a removable halter strap — and if you do opt to go strapless, it still holds everything in place, which is always a pleasant surprise.
The Supportive One That's Super Light
What I like most about this Freya bikini isn't just its refreshing mint color. Instead, I'm obsessed with how an underwire top can be lightweight without resorting to thin fabric. It means you get to feel like you're wearing a light and breezy bikini, without having to worry about nips after emerging from the water. And you still get all the vital support of an underwire top.
The One I'll Probably Wear the Most Often
I have to say, this bikini was such a pleasant surprise. I received it in a U.S. size ten top and size eight bottom, so I expected this would be just as disastrous as when I used to wear 36DD bras in high school before my first proper fitting (e.g., lots of sagging and little support). But I actually ended up loving this suit, perhaps more than any of the others in the bunch. Even though I'm narrow, the size ten top ended up fitting me perfectly, and there was a nice amount of cleavage without being too sexy. And although the picture above includes the basic bikini bottoms, I opted for some vintage-looking ruched high-waisted bottoms that were absolutely phenomenal. They were so flattering and acted like less-intense Spanx. I can't wait to wear this all summer long.
The Sexiest One of the Bunch
This was the sexiest one I tested out since the back is solely composed of a strap you have to tie up. It can get confusing — you have to figure out what goes where and how to get it over your head, and that takes a hot minute. But as soon as you do it gets easier to tie up each time you wear it. This bikini is skimpy without being gratuitous, and simple (in the front) without being boring, and it makes your boobs look amazing — propped up with underwire, but separated a bit in the middle, which gives your cleavage a nice shape. The bottom is quite small. I have it in a medium and it barely grazes the top of the top of the pubic area, so I recommend sizing up.
The One You Can Wear Around Your Family
I've accepted (and am at peace with) the fact that most people probably notice I have big boobs when I'm in a bathing suit. But I don't want my family or professional contacts to notice that if we're at some sort of water-related event. Around them, I just want to wear a conservative yet sophisticated suit that I feel confident in, but that also doesn't really call attention to my figure — without having to go so far as to wear a caftan in the pool. That's where this Freya one-piece comes in. It's attractive and timeless, but the keyhole above the boobs doesn't actually show much cleavage, so it's a great way to keep the girls under wraps in a bathing suit.
The Most Fashionable (and Also Still Sexy) Bikini
As someone whose wardrobe is largely composed of clothes she buys at an outlet mall near the airport by her parents' house, I've never really worn a truly "stylish" swimsuit before. That is, until this Miss Mandalay bikini. The suit is incredibly trendy and cool, and looks like something you'd see a wealthy 20-something wearing with a bunch of jewelry as they sip champagne on a yacht. I loved wearing this at the beach, and even my fashionable best friend was impressed. The top is pretty tight, so it holds your boobs down a bit without making them protrude from the side. The downside to it, though, is that the straps make for some strange tan lines.
The One You Can Actually Wear Strapless
When I go to the beach with friends, many of them end up wearing strapless bikini tops, presumably to avoid tan lines and also because, well, they can. I, however, have always had to stick with bikinis and one-pieces that had straps, because I'd never come across a strapless top that didn't want to fall down to my waist. That's why I was so truly thrilled to come across this Panache bikini. While there are straps in the picture above, they're also removable. The suit is so wonderful and high-quality that it doesn't budge. The cups are also incredibly supportive with the underwire and thick bra-like padding that I felt confident enough to run around on the beach.
If you buy something through our links, New York may earn an affiliate commission.