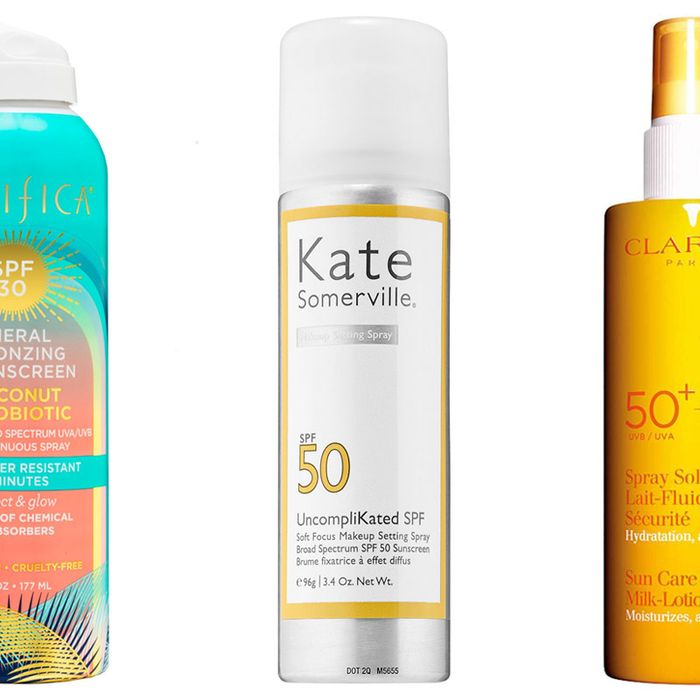 The annoying thing about sunscreen is that it requires around-the-clock reapplication to do its job. Dermatologists agree that after two hours, the white cream you slathered on in your bathroom has quit, leaving your skin vulnerable to UV rays that cause wrinkles, brown spots, or worse, skin cancer. Enter spray-on sunscreens — because if you're going to be reapplying all day, might as well make the process relatively painless.
I tested nine formulas, some new, some classic. All of them contain broad-spectrum protection, meaning they ward off both UVA rays (the ones that age us) and UVB rays (the ones that burn us) and all of them had a minimum sun-protection factor of 30. After two weeks of misting, I determined some are better suited for the beach, whiles others are elegant enough for everyday use.
Photo: Courtesy of the vendor
This clear mineral mist contains zinc oxide and titanium dioxide — physical UV blockers that sit on top of the skin reflecting rays. The formula blended well without leaving behind a white residue or a weird smell. It shoots out of the can feeling pretty wet on the skin, and takes about a minute to soak in if you don't rub it to speed up the drying time. While I did feel slightly sticky, I appreciated the matte finish.
Photo: Courtesy of the vendor
The bottle's nonaerosol dispenser provides a continuous oil-free mist that hits at all angles, making hard-to-reach areas like my back easy to cover. The chemical filter formula is luxurious: silky not sticky, super hydrating (my skin went from looking noticeably dry to dewy), and loaded with vitamins, adding a skin-care-esque edge. Plus, it's infused with the brand's signature Privet Bloom fragrance (with notes of white hyacinth, dune grass, and orange blossom). Bottom line: Afterward, I was in no rush to shower.
Photo: Courtesy of the vendor
This sheer mist has an addictive tropical aroma that made me look forward to reapplying it. It takes a few seconds to dry, but there's really no rubbing required. My skin was left with a slight sheen and mild tackiness — not ideal for daily wear, but totally doable for a day at the beach. Bonus points for the addition of antioxidant vitamin E for additional skin-protecting benefits.
Photo: Courtesy of the vendor
While most of the mists tested here don't require blending, this one does, and that's a good thing. The unique lotion-in-a-spray formula coats the skin with a white alcohol-free lotion, which ensures you don't miss any spots (a big reason we still get burned while using sprays). I found this one rubbed in easily, drying down to silky matte finish — with no stickiness whatsoever. It's extremely lightweight and odor-free, making it comfortable enough to wear with clothes. The formula contains chemical filters to ward off UV rays, along with a blend of anti-aging antioxidants to neutralize free radicals that damage our cells.
Best Over Makeup (Yes, It Really Works)
Photo: Courtesy of the vendor
No matter how elegant the facial sunscreen, I'm not reapplying it over my makeup. Kate Somerville's new setting spray is formulated with broad spectrum SPF 50, yet still keeps your makeup in place. What's more, it contains oil-minimizing silicone powders, hyaluronic acid, and antioxidants that kept my complexion shine-free all day. Does it contain chemical UV filters? Of course — but it's formulated for the face as a light mist with a speedy dry down. I sprayed it on (avoiding my eyes and mouth) over tinted moisturizer, bronzer, and blush, and found my makeup remained fresh despite a hot, humid forecast. It also contains a lavender essential oil fragrance that fades quickly.
Best for Bronzing and Sun Protection
This one is a game changer for pasty folks wishing for some color, but as with any bronzing product, expect a mess. It sprays out brown (and stained my bathtub) but when I finished, my legs were powdery smooth and tan, with an airbrush-like quality that camouflaged bruises. Unlike self-tanning products, this one didn't smell, though it did slightly rub off on my hands. After 20 minutes, I ran my leg under water and was impressed to see the bronze color and silky texture remain intact with no run off. Founded by surfers, Pacifica uses safe and sustainable ingredients; zinc oxide is the UV-deflector here. While I still haven't figured out the best way to reapply this in public (I repeat: it will stain your fellow loungers, towels, swimsuit, etc), the added tint gave my post-baby body a feel-good glow.
This time-tested sunscreen is touted by dermatologists for a reason. Neutrogena's helioplex technology ensures that UV filters like avobenzone are stabilized so they can do their job properly and for a longer period of time. The bottle claims a "weightless and clean feel" and that's exactly how this one goes on. The sunscreen sprays out in a fine, cold dry mist that sinks into skin instantly. What gives it away is the quintessential sunscreen scent, which is definitely potent. As far as reapplication goes, it's pretty effortless — no rubbing, no residue, no drying time.
Photo: Courtesy of the vendor
This white lotion sprays out in short little bursts. I liked that it felt extremely lightweight and creamy when I blended it. The texture and scent resemble a fancy moisturizing lotion or a fluid-like "milk," rather than a chalky, weird-smelling sunscreen. This is one I wouldn't mind applying every day.
Photo: Courtesy of the vendor
This one has a similar delivery system as Clarins's nozzle, but it's a clear mist that's supposed to give the experience of a dry body oil. I didn't feel the cooling sensation touted on the bottle, but it's elegant — not tacky or greasy. The only turnoff: you get a whiff of alcohol with every spray.
If you buy something through our links, New York may earn an affiliate commission.